Ayanna Pressley Blames McConnell for GoFundMe Pages Set Up to Pay for Essentials as Stimulus Talks Stall
Congresswoman Ayanna Pressley of Massachusetts said Senate Majority Leader Mitch McConnell is making good on his "Grim Reaper" nickname, as pandemic stimulus discussions remain stalled in Congress.
Several economic protections put in place for Americans due to the coronavirus pandemic are set to expire at the end of December. Democratic and Republican lawmakers on Capitol Hill have for months disagreed over what the next pandemic relief package should look like.
"He is callous and disconnected from the hardship that the American people are experiencing," Pressley, a Democrat, said during a Thursday interview with MSNBC. "When he said that he was intent on being the 'Grim Reaper,' he has certainly honored that."
Prior to the pandemic, McConnell embraced the idea of being Congress' Grim Reaper, a nickname he earned by leaving Democrat-backed initiatives from the House of Representatives to die in the Senate. After months without new federal aid and new COVID-19 infections and deaths continuing to climb throughout the country, Pressley said McConnell and other congressional Republicans have "abandoned" those who are struggling.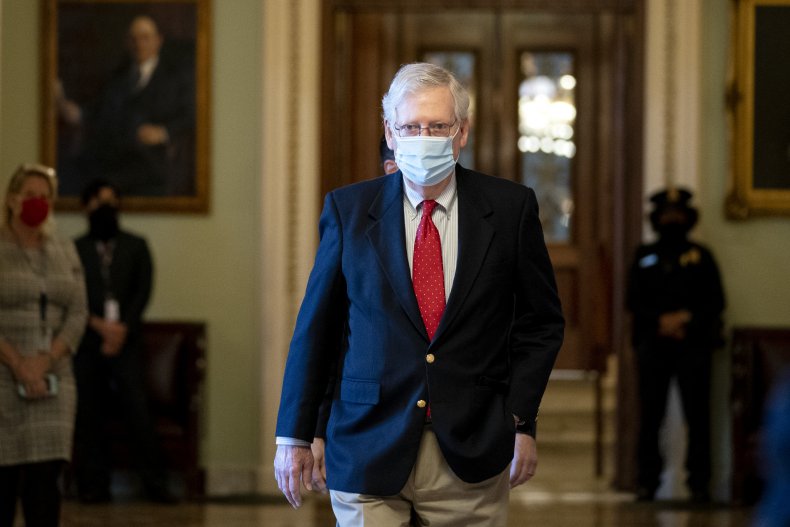 "They have abandoned the American people, and we have ostensibly become one big GoFundMe page," Pressley said. "People have set up GoFundMe pages for diapers, for groceries, for rent."
Pressley listed several of the action items that she said should be on a new pandemic relief bill, including recurring direct payments; moratoriums on evictions and foreclosures; expanded unemployment benefits; and federal economic support for states and municipalities.
"People need this relief for diapers, for groceries, for inhalers, for insulin, for rent," Pressley said. "This is a public health crisis. We cannot have people unsheltered. The fact that we are having to beg for people to merely survive, to meet their most basic needs, is unconscionable."
House Speaker Nancy Pelosi said on Thursday that stimulus talks could extend into late December if an agreement is not reached next week.
The divide between Democrat and Republican preferences for a new stimulus package has widened since lawmakers passed their initial Coronavirus Aid, Relief, and Economic Security (CARES) Act in March, but support for a bipartisan $908 billion relief package has grown on both sides of the aisle in recent weeks.
Though Democratic leaders in the House and Senate have come around to the bill, McConnell blocked it from moving forward on Thursday due to the financial support it proposes for state and local governments.
But to Democrats like Pressley, the aid for state and local governments is an essential piece of the puzzle.
"Without that state and municipal aid, we will only see great contributors to what is already a tsunami of hurt because of the confluence of unprecedented food and security, unemployment and families on the precipice of eviction," Pressley said.
Newsweek reached out to McConnell's office for comment, but did not receive a response in time for publication.