Ayanna Pressley: Trump Is a 'Racist, Misogynistic, Truly Empathy-bankrupt Man'
Boston city councilor Ayanna Pressley defeated U.S. Rep Michael Capuano in a Democratic primary on Tuesday—and during her victory speech that evening, she took aim at President Donald Trump.
Moments after Capuano conceded the primary race to represent Massachusetts' 7th District, Pressley addressed her supporters in a speech where she called Trump "racist" and "misogynistic."
"While our president is a racist, misogynistic, truly empathy-bankrupt man, the conditions which have made [MA-07] one of most unequal in America was cemented through policy long before he ever descended the escalator at Trump Tower," the Democratic congressional nominee said.
Pressley's win is the latest far-left shakeup of the House Democratic caucus. So far this year, Capuano is the fourth House member to lose a primary, after Reps. Mark Sanford, R-S.C., Robert Pittenger, R-N.C. and Joe Crowley, D-N.Y.
Pressley's win has been compared to Alexandria Ocasio-Cortez's June triumph over Crowley in New York. But unlike the 28-year-old political newcomer, Pressley, 44, served as former Secretary of State John Kerry's political director during his time as U.S. senator, reported Fox News. In 2009, Pressley also became the first black woman elected to the Boston City Council.
"It seems like change is on the way," Pressley said during her speech on Tuesday night, "we have together ushered in something incredible."
"People who feel seen and heard for the first time in their lives, a stakehold in democracy and a promise for our future," she continued. "That is the real victory, that is bigger than any electoral victory. And I want to thank you all for being foot soldiers in this movement and for ushering in this change."
Shortly before The Associated Press confirmed Pressley as the winner, Capuano, who had held the seat for 20 years, conceded the race. "I'm sorry it didn't work out, but this is life, and this is O.K. America's going to be O.K. Ayanna Pressley is going to be a good congresswoman, and I will tell you that Massachusetts will be well served," he said.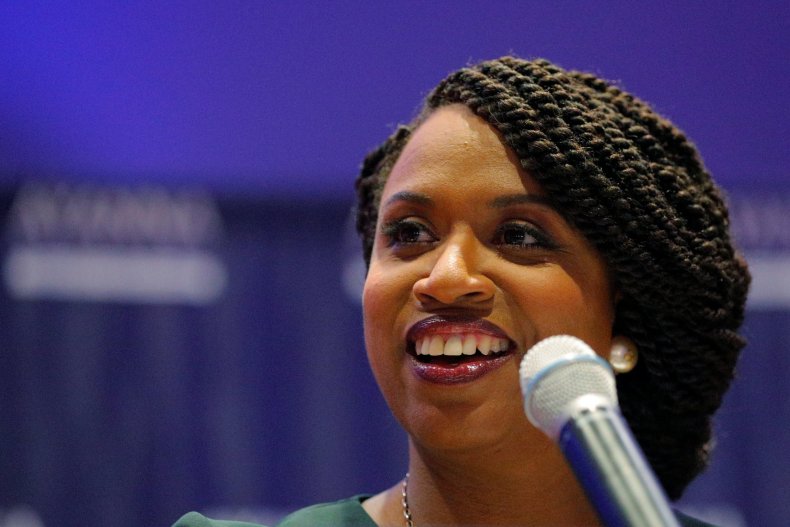 Mary Anne Marsh, a Boston-based Democratic strategist, told The New York Times that the result should serve as a "big wake-up call to any incumbent on the ballot in November."
"We've been in a change election cycle for years. But Trump may have opened the door for all these young candidates, women, people of color, because voters want the antithesis of him," she said.