Ayesha Curry Shares 'Insecurities' About Women Throwing Themselves at NBA Star Husband, Twitter Reacts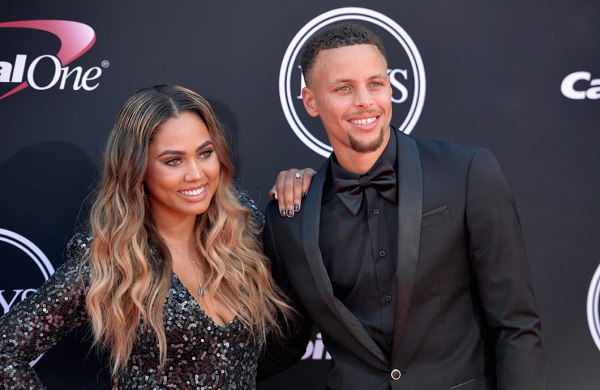 Ayesha Curry may have the devoted love and support of her NBA star husband Steph Curry, but that doesn't mean the mother-of-three doesn't suffer feelings of insecurity from time-to-time. The Seasoned Life cookbook author got personal about a number of things she faces as the wife of a basketball player during an appearance on Jada Pickett Smith's Red Table Talk on Tuesday.
Ayesha Curry kept it real regarding her feelings about Steph's interactions with other women. While noting her husband was always very respectful, Ayesha said the Golden State Warrior is "very nice by nature" and "very talkative" towards others, and it's something the couple has had a number of conversations about.
"Everything's always very friendly and sometimes to the point where it's like, ok, I'm a grown woman, so I'll just insert myself and be like, 'Hello, how are you doing?' I'm ok with it now," she said, explaining that she was very aware of some women's intentions with her husband and that made her uncomfortable.
"Obviously, you know the devil is a liar and the ladies will always be lurking, hoping for their moment and waiting. You need to be aware of that. But for me, I honestly hate it. I don't like when I feel leveled off with someone. It just irks my nerves. And so we had the conversation about it, and he tries really really hard to make sure that if we're going somewhere, I'm being introduced. I don't like to have to introduce myself. It irks my nerves. So I try and make that known," she continued, adding that there "have been a couple of times where I've wanted to punch somebody in the face for sure."
Ayesha Curry never blamed the NBA point guard for the way women behaved around him. "It's never him, it's always the other person. And he doesn't necessarily know how to deal with that because he's just a generally nice human being and he can't see it coming. He can't see it coming. I see it from a mile away," she said.
On top of dealing with the constant attention surrounding her husband, Ayesha Curry admitted to struggling with her own self-confidence from often feeling overlooked. "Something that really bothers me and honestly has given me a little bit of a sense of insecurity is the fact that yea, there are like all these women throwing themselves [at him], but me, the past 10 years, I don't have any of that," she said.
"I have zero—this sounds weird—but like male attention. So then I begin to internalize it and I'm like, 'Is something wrong with me?'" she continued. "I don't want it, but it would be nice to know that like someone's looking."
The Food Network star's honesty stirred up a bit of controversy on social media, and some people ridiculed her for complaining about the lack of attention she received from others despite being a married woman.
Meanwhile, some folks were upset at Ayesha Curry's comment about being uncomfortable with other women around her husband, while others criticized her for starting drama ahead of Steph Curry's upcoming playoff game.
There were others who defended the Canada native's words, though.
See a few more reactions from Ayesha Curry's Red Table Talk appearance below.