Ayesha Curry Reveals Temporary Blonde Hair and Faces Accusations She's Trying to Look White
Ayesha Curry debuted a new look, and—like most things The Full Plate cookbook author and restauranteur does—sent the internet into a tizzy.
Curry appeared in an Instagram post rocking blonde hair on Sunday. "Mom goes blonde (temporarily)," the natural brunette wrote.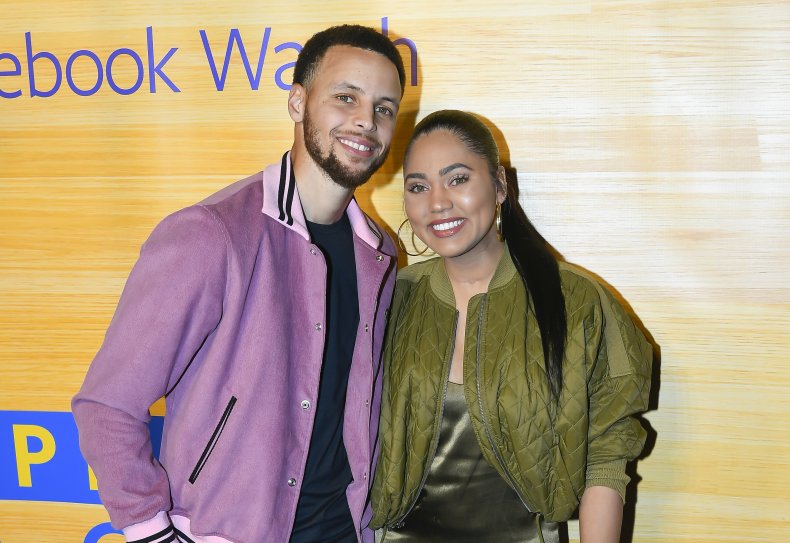 What happened next was an onslaught of critics who commented harshly on the photo, attacking all aspects of the photo, from her new hair and apparent weight loss to allegations that she Curry's lightening her eye color. According to some folks, the wife of NBA star Stephen Curry's new blonde hair was merely an attempt to look more like a white woman.
"Y'all made Ayesha Curry get fillers and now she look like a white woman," one person wrote on Twitter on Sunday.
"Why she do this bro?" another captioned a tweet of of side-by-side photos of Ayesha Curry with dark hair and blonde hair.
"Exactly, Ayesha Curry looked beautiful before. Now she looks like some IG white Kardashian-like model. Aint nobody hating just because they notice she looks unnatural now. She lightened her eyes even more too," wrote another.
In the midst of all the cruelty there were some who defended the 31-year-old's new look and lambasted critics for having a negative reaction to quite literally everything Ayesha Curry does.
"It's Ayesha Curry eating up this Blonde for me," one Twitter user wrote.
"Ayesha Curry is basically the LeBron James of basketball wives. No matter what she do, good, bad, or indifferent people always got sum to say," one tweet read.
Some women also pointed out that not only was Ayesha Curry obviously using one of Instagram's many filters for the photo, it was also likely that the mother-of-three didn't actually dye her hair blonde but was merely wearing a blonde wig for the day—hence the use of the word "temporarily" in the caption Curry wrote in the Instagram post. Those assumptions were accurate as Curry herself later took to Twitter confirming that she was indeed wearing a wig.
"It's the fun wig for a switch up and extremely common IG filter we all use from time to time for me... I just... y'all be taking this stuff wayyy too serious," Ayesha Curry wrote.
There was at least one person who was a big fan of Ayesha Curry's getup and it likely was the only opinion that truly mattered to her: Stephen Curry.
The Golden State Warriors player left a flirtatious comment on her Instagram photo showering his wife with praise.
"You beautiful baby. And don't you let anybody tell you differently ok? I mean it. There's just a bunch of meanies out there and I don't like it. I don't like it one bit. Do you boo boo. P.S. If the wig falls off I won't tell anybody, I promise. Pinky promise. It be hilarious though, but won't anybody know. Wait- that's been you in this bed the whole time??? I ain't even know. Now I'm tripping," Stephen Curry wrote.