AZ Lawmakers Ask Attorney General to Investigate Claim Students Were Barred From Wearing MAGA, Trump Gear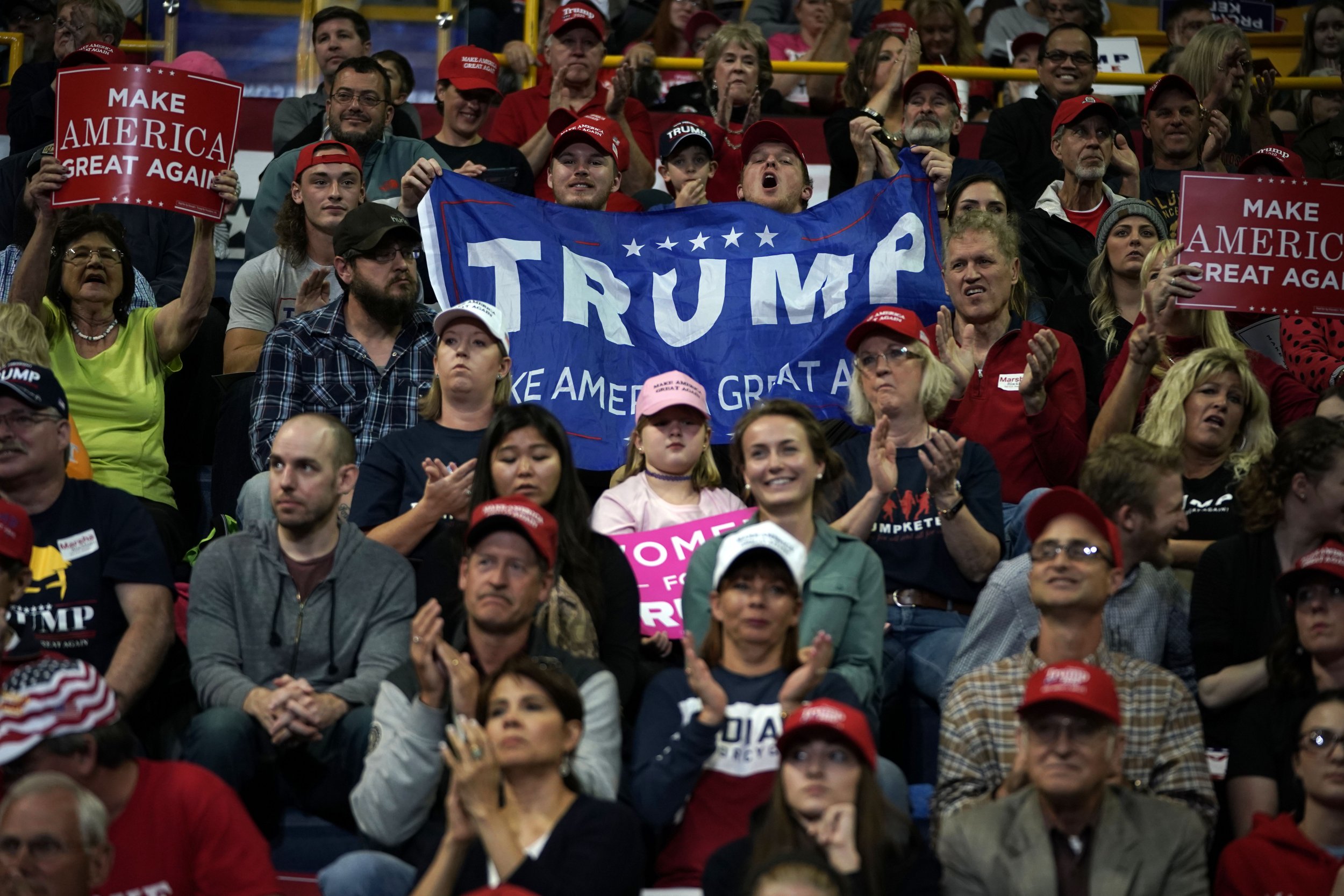 Republican lawmakers in Arizona called for the attorney general to investigate the possibility students had their First Amendment rights violated when they were allegedly asked to remove apparel supporting President Donald Trump.
Sent on Monday, the letter pointed to events that allegedly occurred during the "Party in the USA" spirit day at Perry High School in Gilbert, Arizona. In conjunction with the theme, students wore hats and clothing and brought signs supporting Trump.
Students and their parents claimed that the school asked them to remove the gear or leave campus and Jennifer Farris, whose child attends the school, wrote in a Facebook post that one student was suspended for 10 days. The legislators wrote in their letter that the parents said they were told the clothing was "offensive, and that their kids were being disrespectful by wearing it."
"Given that free speech of all U.S. citizens is guaranteed in the First Amendment to the United States Constitution, we ask that you, as the chief legal officer, examine the facts of this case to ensure the rights of these students were not infringed upon," the legislators wrote.
The legislators also requested that Attorney General Mark Brnovich ensure the equity and inclusion programs implemented by the school "truly espouse tolerance for all viewpoints, including Christianity and conservatism." A total of 26 Republican members of the Arizona House of Representatives signed the letter.
"If we're going to take issue with students wearing Trump attire, then why aren't we taking issue with the Wednesday RedForEd attire?" Representative Kelly Townsend said during a protest on Monday, as reported by The Arizona Republic.
The school denied the students were disciplined because of their political viewpoints and called the claim "false." Principal Dan Serrano wrote in an email to parents that an incident occurred at lunch that caused a disruption and safety concern. He said the students complied with the school's request to put the sign away, but then brought it out again after school ended for the day, at which point, they were asked to leave.
Serrano said the school's responsibility is to keep students safe, but added that students won't be disciplined for lawfully exercising their free speech rights. Newsweek reached out to Serrano but did not receive a response in time for publication.
Ryan Anderson, a spokesman for Brnovich, told The Arizona Republic that the attorney general's office received the letter and will look at all of the facts. Anderson added that at present time, they didn't have enough information about the situation.
Terry Locke, a spokesman for the Chandler Unified School District, which includes Perry High School, told The Arizona Republic that the district welcomes the oversight.