Aziz Ansari Roasts Aaron Rodgers, Nicki Minaj Over COVID Vaccine Stance
Aziz Ansari has poked fun at Aaron Rodgers and Nicki Minaj over their respective—and controversial—statements on the COVID-19 vaccine.
Green Bay Packers quarterback Rodgers and rapper Minaj have faced criticism in recent months after publicly discussing their decisions not to take the vaccine.
And in a snippet of his new Netflix comedy show, Aziz Ansari: Nightclub Comedian, Ansari has roasted the stars over the statements they have shared.
After facing a chorus of boos when he asked the audience what they thought of Rodgers, Ansari quipped: "Let's calm down. He's a football player. He read some articles, he got skeptical, he did some research.
"Are you stunned he came to the wrong conclusion? Did you really think he was going to crack the case? Did you think [Dr. Anthony] Fauci was going to be out there like, 'I just got off the phone with Aaron Rodgers.'"
"He's out there saying, 'Oh, you know, I'm a critical thinker,'" he said. "Oh no! Was he, like, running the scientific method?"
"This poor guy," Ansari added. "It's like we're all in high school and we're making fun of the quarterback for doing bad on the science test."
Rodgers faced relentless criticism when he "set the record straight" during a November 2021 appearance on the Pat McAfee Show, after telling journalists he was "immunized" against COVID-19 despite not having taken the vaccine.
"It wasn't some sort of ruse or lie, it was the truth," he said at the time. "Had there been a follow-up to my statement that I had been immunized, I would have responded with this. I would have said, 'Look, I'm not, you know some sort of anti-vaxx, flat-earther. I am somebody who is a critical thinker.'"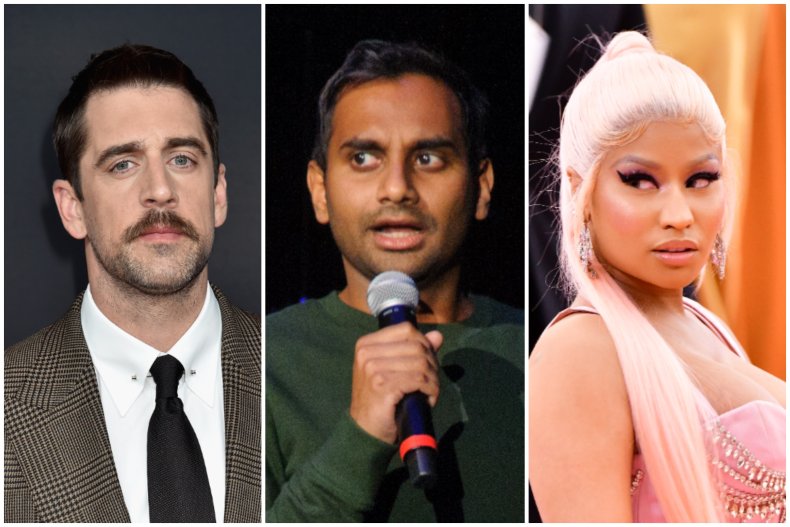 Claiming that he was allergic to an ingredient in the mRNA vaccines (Pfizer and Moderna), he went on to state that he refused to take Johnson & Johnson's version because he "had heard of multiple people who had had adverse events around getting the J&J."
Sharing that he wanted to become a father in the future, Rodgers went on: "To my knowledge, there has been zero long-term studies around sterility or fertility issues around the vaccines, so that definitely was something I was worried about."
The Centers for Disease Control and Prevention has pushed back against claims the COVID-19 vaccine can lead to fertility issues.
Instead, Rodgers said he had treated himself with ivermectin, a drug used mostly to prevent or treat parasites in animals. The Food and Drug Administration does not approve ivermectin as a treatment for COVID-19.
For her part, Minaj started a conversation about the vaccine in September, when she tweeted that the Met Gala required this year's guests to be vaccinated—which she was not willing to do just to attend the event.
She then wrote in a follow-up tweet: "My cousin in Trinidad won't get the vaccine cuz his friend got it & became impotent. His testicles became swollen. His friend was weeks away from getting married, now the girl called off the wedding. So just pray on it & make sure you're comfortable with ur decision, not bullied."
While the star later clarified that it was likely she would take the vaccine as she will "have to go on tour, etc," she faced an onslaught of criticism, with a sizable portion of detractors accusing her of using her platform irresponsibly.
"I don't think [Rodgers], Nicki Minaj, any of these people are idiots," Ansari said in the snippet of his comedy show. "I'm not here to say that. I just think they're trapped in a different algorithm than you are. You know what I mean by that? If you're calling them idiots, you're trapped in another algorithm."
Urging the audience to have "empathy" for those whose opinions fall on the opposite end of the spectrum, Ansari said: "Maybe click on some of the stuff they click on for a few days. See what's going on. Don't go too hard, though. End of the week, you'll be out there like, 'Fauci's a pedophile!'"