What is Azo Dye? Tattoo Ink Shares Possible Link to Cancer in New Study
New findings show that an azo-containing dye in the tattoo ink used in the United States could possibly have links to cancer, according to a study presented at an American Chemical Society (ACS) conference.
Dr. John Swierk and his team of researchers at Binghamton University (State University of New York) were studying the composition of tattoo pigments through various techniques, according to a news release by the American Chemical Society. Not enough information is known about the composition of inks, which are mostly unregulated in the U.S., the ACS said in the conference video description.
"From life-like faces to elaborate nature scenes, tattoos are a true art form," the scientific group said.
"Although people have decorated their bodies for millennia for ceremonial and religious reasons, many people today adorn themselves with these images as a form of self-expression. But the inks used for tattoos are unregulated in the U.S., resulting in products whose components are largely a mystery.
"Now, researchers have analyzed almost 100 inks and report that even when these products include an ingredient label, the lists often aren't accurate. The team also detected small particles that could be harmful to cells," the scientific group said.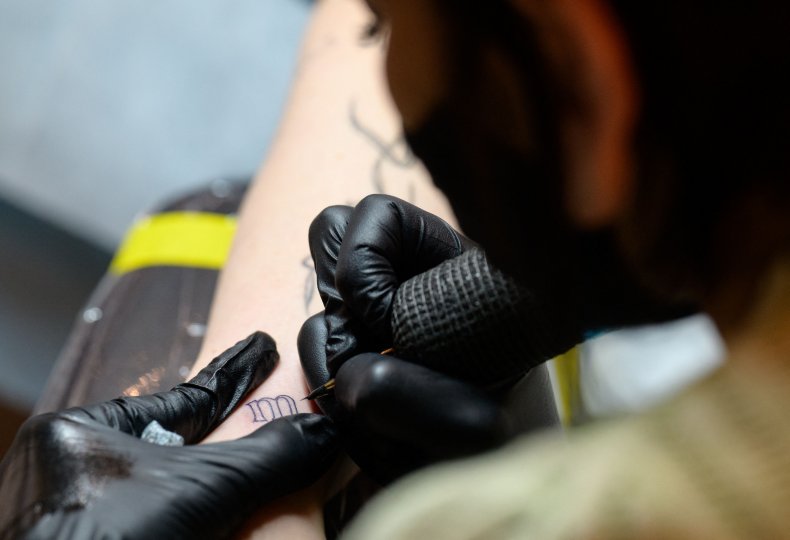 As they were analyzing the composition of the ink, the researchers found some ingredients that were not listed on some labels. For example, ethanol was not listed on the label, even though a chemical analysis showed that it is in the ink. The researchers were able to identify specific pigments present in some inks.
"Every time we looked at one of the inks, we found something that gave me pause," Swierk said, according to the news release. "For example, 23 of 56 different inks analyzed to date suggest an azo-containing dye is present."
What is Azo Dye?
Azo dye is a chemical compound that is one of the most important synthetic colorants, which are widely used in producing textile and paper, according to the National Center for Biotechnology Information. It is also used in artificial food dyes, according to Science Direct.
The Joint Research Centre said many azo pigments don't cause health concerns when they are chemically intact, but bacteria or ultraviolet light can degrade them into another nitrogen-based compound that is a "potential carcinogen", a substance that causes cancer in living tissue.
Swierk and his team of researchers gathered their findings by analyzing 100 inks and interviewing tattoo artists who didn't know much about the contents of the tattoo ink, even though they could quickly identify a brand.
"Surprisingly, no dye shop makes pigment specific for tattoo ink," Swierk explained. "Big companies manufacture pigments for everything, such as paint and textiles. These same pigments are used in tattoo inks."
Meanwhile, the European Chemical Agency recently set restrictions on certain blue and green pigments used to color tattoo ink, citing health concerns. Swierk said at the conference that people in the United States should also assume that those pigments raising concern are present in their tattoo inks.
"I think it's important to note that those particular pigments, Blue 15:3 and Green 7, have been used in tattooing for a very long time," he said. "While the EU's data is a concern, it's not a definite. Much like with everything involving tattooing, it's incumbent on consumers and artists to make a decision about their particular comfort level and then proceed accordingly."
The researchers are expected to carry out a few more tests and have the data peer-reviewed to add this information on their website "What's in My Ink?"
"With these data, we want consumers and artists to make informed decisions and understand how accurate the provided information is," said Swierk.
Newsweek reached out to the Tattoo Artists' Guild and the American Chemical Society for comment.