B-52 Bomber Loses Part During Flyover Honoring New Orleans' Healthcare Workers
On Friday morning around 10:30 a.m., a B-52 bomber flying over New Orleans' medical facilities to honor the city's medical workers fighting the coronavirus epidemic lost a small access hatch mid-flight. The lost piece fell to the ground and neither harmed anyone nor endangered the bomber's airworthiness.
The B-52s were constructed around 1960 or 1961, making the aircraft nearly 60 years old. Local authorities reportedly collected the part and the bomber returned to its base. The incident has compelled the base to conduct a safety investigation before the plane is publicly flown again.
The plane was one of four military aircraft flying over hospitals in New Orleans and Baton Rouge. The flyover—which was conducted by the U.S. Air Force, the Barksdale Air Force Base and the Louisiana National Guard—included the two B-52 Stratofortress bombers and two F-15 fighter jets, according to NOLA.com.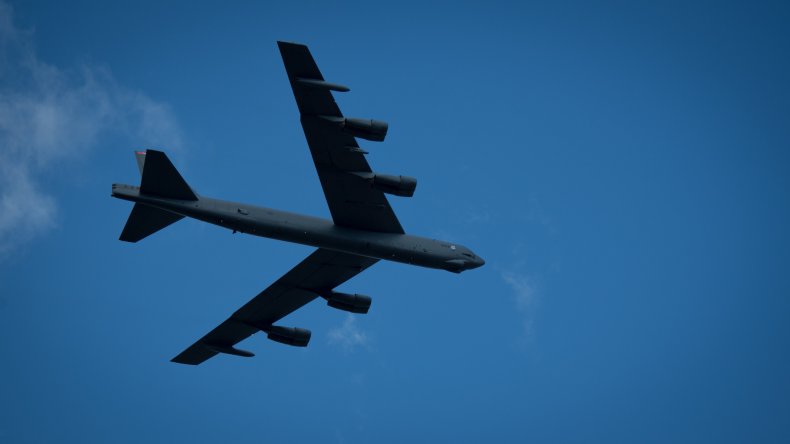 "We thank the dedicated men and women who are on the frontline combating the Covid-19 health crisis," said Maj. Gen. James Dawkins Jr. in a statement. "The special bomber demonstrations are not only a tribute to these individuals, but also serve as a visible reminder of Americans' solidarity and drive during a very challenging time."
"The healthcare workers who continue to commit themselves during this unprecedented time in our nation," added Col. Michael Miller, the base's 2nd Bomb Wing commander.
The aircraft began their flights over New Orleans around 9:30 a.m. and then flew the Louisiana capitol of Baton Rouge starting around noon. The planes flew low in the sky in a four-plane formation and slowly enough to allow city residents to see them from their streets and homes.
The National Guard advised the public to practice social distancing while viewing the flyovers and discouraged people from traveling or leaving their homes to get a clearer view.
The U.S. Air Force performs almost 1,000 flyovers each year, according to the Barksdale Air Force Base. Although these flyovers usually provide an aerial spectacle during national sporting events, air shows and patriotic holidays, the Air Force treats them like "fully functional training missions, designed to maintain the lethality and readiness of Air Force pilots and maintainers," the Barksdale Air Force Base wrote in a statement.
"They are conducted at no additional cost to taxpayers and are incorporated into existing flying schedules," the statement continued.
Newsweek has reached out to the Barksdale Air Force Base for comment. The base hadn't responded by the time of publication.