The Pentagon has emphasized its commitment to the defense of the 30-member NATO alliance as the U.S. sent B-52 strategic bombers to the bloc's eastern front and Russia raised its nuclear alert level.
Newsweek asked a senior Pentagon official how the U.S.-NATO nuclear deterrence doctrine is affected by rising tensions between Washington and Moscow over the latter's decision to conduct a "special military operation" that has seen Russian troops advance through Ukraine in an attempt to surround the capital Kyiv.
"The defense of our allies in Article 5 remains ironclad across the realm of military capabilities," the official said.
Article 5 outlines the principle of "collective defence" in NATO's founding treaty. It stipulates that "an attack against one Ally is considered as an attack against all Allies," according to the NATO website. It was invoked for the first time after the 9/11 attacks, and also "in response to the situation in Syria and the Russian attack on Ukraine," according to their website.
The announcement came the same day as Putin instructed his armed forces to "introduce a special combat service regime in the Russian army's deference forces," after he said that "top officials in NATO's leading countries have been said making aggressive statements against our country." He also condemned a growing list of sanctions and restrictions from the West targeting Russia, including those that blacklist Putin himself.
NATO Secretary-General Jens Stoltenberg criticized what he called "dangerous rhetoric" from the Russian leader and slammed the move as "irresponsible." White House Press Secretary Jen Psaki accused the Kremlin of "manufacturing threats that don't exist in order to justify further aggression."
The U.S. and its allies have dismissed Putin's pretext for attacking Ukraine, which the Russian leader has accused of threatening Russia's national security by seeking to join NATO and even seeking nuclear weapons of its own. As tensions mounted earlier this month, with Washington warning of an impending invasion and Moscow denying such plans, the U.S. sent B-52s to the United Kingdom.
About a week later, Putin ordered an exercise of Russia's strategic deterrence forces, involving warplanes, warships, submarines and intercontinental ballistic missiles that make up the country's nuclear triad.
Then, after Russia began its attack on Ukraine, the U.S. sent B-52s directly to NATO's eastern front, conducting operations over the Arctic and Baltic Sea, as well as over Poland.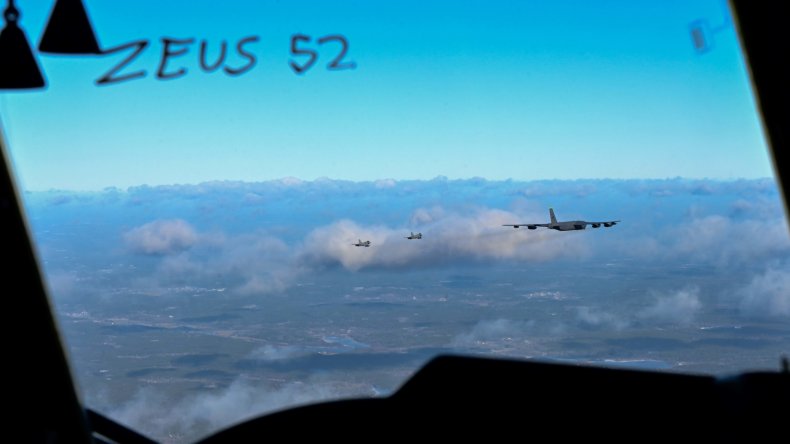 The U.S., France and the United Kingdom are the only nuclear powers within NATO, but a number of allied nations operate dual-use aircraft capable of delivering U.S. weapons of mass destruction.
NATO issued a statement Wednesday, the same day that Russian President Vladimir Putin announced the beginning of hostilities against Ukraine, outlining the coalition's "nuclear deterrence posture," which the bloc said "relies on nuclear weapons forward-deployed by the United States in Europe, as well as on the capabilities and infrastructure provided by Allies concerned."
"A number of NATO member countries contribute a dual-capable aircraft (DCA) capability to the Alliance," the statement said. "These aircraft are central to NATO's nuclear deterrence mission and are available for nuclear roles at various levels of readiness. In their nuclear role, the aircraft are equipped to carry nuclear bombs in a conflict and personnel are trained accordingly."
So while the U.S. "maintains absolute control and custody of their nuclear weapons forward deployed in Europe," other "Allies provide military support for the DCA mission with conventional forces and capabilities."
The arrangement has been at the core of Moscow's fears about NATO's eastward expansion and military activities near Russia's borders. The U.S. has previously conducted exercises involving B-52s near Russia's borders, including a 2019 drill with Norway that Moscow saw as training for a potential strike against Russia.
In declaring Russia's military operation against Ukraine, Putin added a stark warning against anyone outside forces that may seek to intervene.
"Whoever tries to interfere with us, and even more so to create threats for our country, for our people, should know that Russia's response will be immediate and will lead to such consequences that you have never experienced in your history," Putin warned at the time.
"We are ready for any development of events," he added. "All the necessary decisions in this regard have been made. I hope that I will be heard."
In another potentially high-stakes development on Sunday, Russian ally Belarus, from which Russian troops have penetrated Ukraine in a push for Kyiv, announced the successful passing of a referendum that would renounce the nation's non-nuclear status and potentially allow for the deployment of Russian nuclear weapons on Belarussian territory.
This is a developing news story. More information will be added as it becomes available.