Adorable Video Shows Baby Gorilla Crawl for First Time With Help From Adopted Mom
A video showing a baby gorilla crawling for the very first time has been released by a zoo in Cleveland.
The footage was posted to Facebook by Cleveland Metroparks Zoo, Ohio, and has generated over 5,000 likes and hundreds of positive comments. It shows a baby gorilla known as Baby G in the arms of its adoptive mom, Freddy.
During the clip, Baby G falls down repeatedly and is helped by Freddy, who reaches out a large arm and helps the baby ape up out of the straw lining their enclosure several times.
Baby G was the first gorilla born at the zoo in its 139-year history. The zoo has launched a competition to name the ape, who was born on October 26, 2021.
Baby G was born prematurely and, with his birth mother at the zoo not showing immediate maternal care, was adopted by the zoo's oldest gorilla, a 47-year-old named Fredrika—or Freddy.
Baby gorillas normally spend the first six months of their lives in constant contact with their mothers. In her role as adoptive mother, Freddy has been bringing Baby G a bottle to feed him.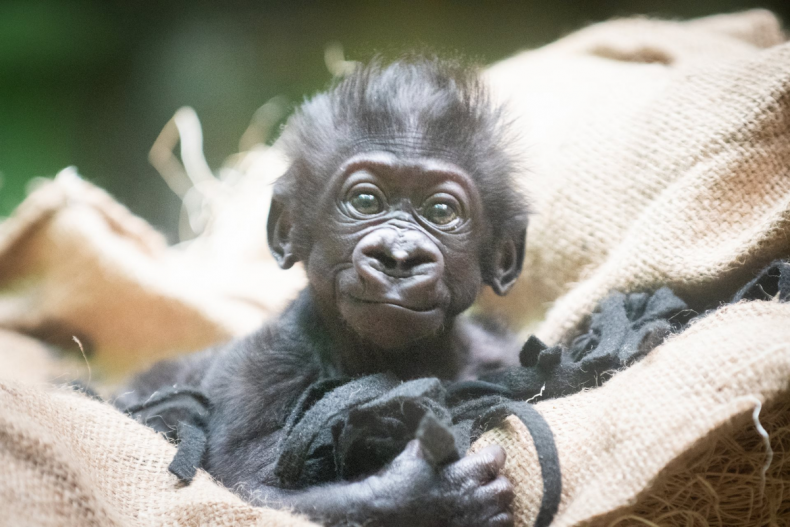 Western lowland gorillas are a critically endangered species. The animals are found in the wild in the rainforests of west Africa's Congo Basin, with populations found in the Democratic Republic of Congo, Gabon, Equatorial Guinea and Cameroon.
Cleveland Metroparks Zoo said there were three choices the public could pick from for Baby G's name: Bakari, a Swahili word for "promising" or "one who will succeed," Jabari, the Swahili word for "brave," or Kayembe, which means "extraordinary."
Proceeds from the vote will go towards the zoo's conservation efforts. The zoo supports gorilla conservation in part by partnering with the Dian Fossey Gorilla Fund, which works helps support scientists studying the animals in west Africa.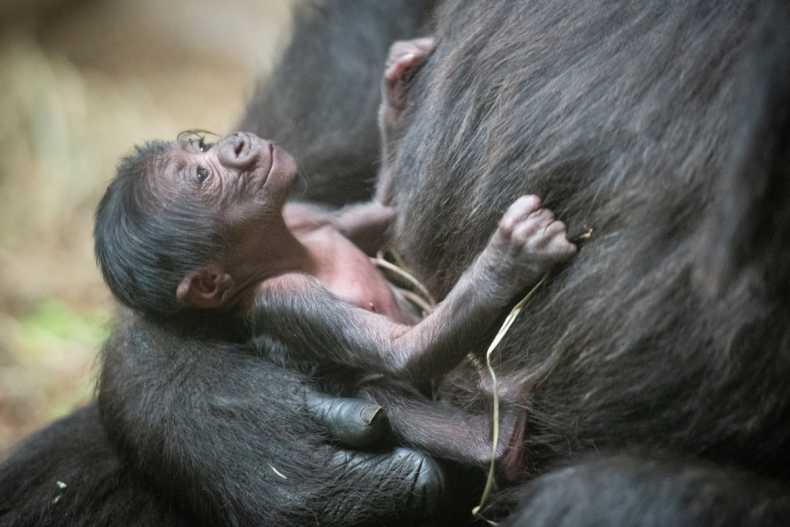 "Gorillas are an incredible species and the birth of the first gorilla here in Cleveland has been another reminder of why we need to protect them from extinction," said Chris Kuhar, Cleveland Metroparks Zoo's executive director, said in a statement.
"Every vote to help name our gorilla will have a direct impact, protecting this iconic and critically endangered species in the wild."
Western lowland gorillas are the smallest gorilla species in the world. Adults can weigh over 400 pounds when fully mature and stand up to 5.5 feet tall.
Due to the dense forests that make up their habitat, the precise number of western lowland gorillas left in the wild is not currently known. WWF said their numbers had declined around 60 per cent over the last 20 to 25 years. Disease and poaching were cited by the conservation group as key threats to the species.