Woman Alleges She Had Sexual Relationship With Woody Allen As A Teen, Threesomes With Mia Farrow
Babi Christina Engelhardt was 16 years old when she allegedly began an eight-year affair with famed director Woody Allen, she revealed in a new, tell-all interview. Allen has long been accused ofsexual assault by his daughter, Dylan Farrow. He denies the allegations against him.
"I'm not attacking Woody," she said in an interview with The Hollywood Reporter, published Monday. "This is not 'bring down this man.' I'm talking about my love story. This made me who I am. I have no regrets."
Engelhardt began her contact with Allen in 1976 when she dropped her phone number on Allen's table at a New York restaurant, with a written note reading "Since you've signed enough autographs, here's mine." Not long after, he allegedly called. Engelhardt was under the legal age of consent in New York, which was 17, and Allen was 41. They allegedly began a sexual relationship.
She'd visit him only at his apartment, which overlooked Central Park, and Allen told her they weren't allowed to discuss his work. "I was a pleaser, agreeable," she said. "Knowing he was a director, I didn't argue. I was coming from a place of devotion."
As for the view, "The curtains were always drawn," she said. "The view must have been spectacular. I wasn't there for the view."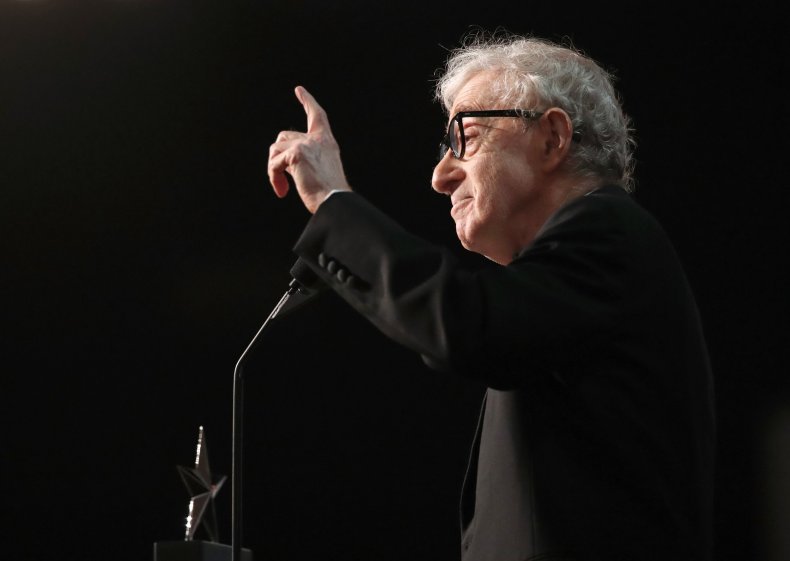 Engelhardt also detailed an encounter, allegedly with Allen and other "beautiful, young women." It was the '70s, she stated and explained she was experimenting with bisexuality. It all changed with Allen began dating Mia Farrow, who he called his "girlfriend," though Engelhardt said she assumed she was his girlfriend.
After Engelhardt was in an alleged sexual relationship with Allen for four years, he introduced her to Farrow. "I felt sick," Engelhardt said. "I didn't want to be there at all, and yet I couldn't find the courage to get up and leave. To leave would mean an end to all of this. Looking back now, that's exactly what I needed, but back then, the idea of not having Woody in my life at all terrified me. So I sat there, patiently, calmly trying to assess the situation, trying to understand why he wanted the two of us to meet."
She also alleged the trio participated in a series of threesomes. "There were times the three of us were together, and it was actually great fun," she claimed of her alleged time with Allen and Farrow. "We enjoyed each other when we were in the moment. She was beautiful and sweet, he was charming and alluring, and I was sexy and becoming more and more sophisticated in this game."
Later, she realized the setup may not have been healthy: "It wasn't until after it was done when I really had time to think of how twisted it was when we were together and how I was little more than a plaything. While we were together, the whole thing was a game that was being operated solely by Woody so we never quite knew where we stood."
Farrow and Allen went on to adopt a daughter, Dylan, together in 1985. Farrow came forward with accusations of sexual assault against Allen in 1992 when she was 7 years old. Allen has always denied the allegation he molested his daughter. Most recently, Allen told CNN the accusation was "thoroughly investigated," in response to the outlet's 2018 conversation with Dylan.
Allen and Farrow have not publicly responded to Engelhardt's claims.