Babies for Sale on Black Market in Russia Exposed by Undercover Journalists
A Russian journalist who used a name and social media account derived from thin air, and hardly a shred of credibility, was able to teeter the line of legitimate baby adoption in Russia. Using the name Pavel Sarychev, the journalist discovered an underground route to buy and sell children on the black market.
Sarychev listed himself as a 43-year-old with a history of psychiatric illness had had only a dozen or so friends on a social media account. One of the groups Sarychev joined was "offer/receive children."
When Sarychev sought a Russian adoption service and asked if there were ways around the traditional adoption avenues—and background checks by social services—the agency didn't ask any questions. Instead, they gave Sarychev options on how to adopt a child for about £5,000, which is just under $6,500 in U.S. dollars, according to The Independent in a story originally published in the Russian investigative site The Insider.
The report from both sites unveils an undercover black market operation of buying and selling children, exposing unscrupulous agents looking to make purchases through unregulated social media platforms.
The Independent reported that each month there are 85,000 searches for "buy a child" just in Moscow.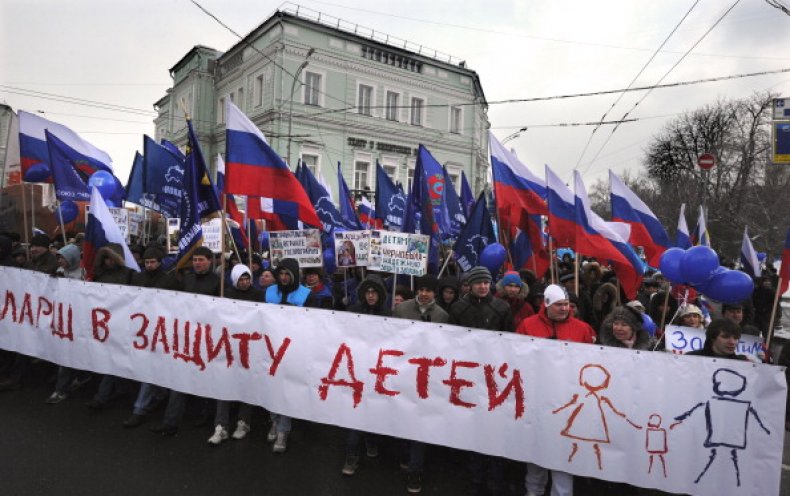 The investigation shows there are desperate women in the country in dire situations and needing money immediately. Going through a covert process allows them to avoid the red tape and lengthy adoption process laid out in the country's laws. But the hazards and health dangers to the children themselves can be horrendous.
Prices for babies are determined by the market. Those from remote regions of the country demand a far-lower price than those from more urban-centric places like Moscow and St. Petersburg. Then there are determining factors of whether or not the child is Slavic. Court documents show that one child traded hands for only 5,000 rubles, which is just more than $75 US dollars.
The journalists who went undercover to expose the corrupt and abusive adoption system found that men and women were treated differently when working around social services checks.
For Sarychev, it simply meant getting the father of an abandoned baby to sign off for the transaction. For women, the process was a tad more tedious, but not hard to pull off. A woman just needed to swap off their child inside the maternity ward while the "watchless eyes" of the "corrupt nurses" looked away.
Agents said no one worried about getting caught as corruption was imminent throughout the entire system so much that "not even a DNA test would stop the trade from going through."
Russia's adoption process has been under an international microscope because of its corrupt nature, but that hasn't stopped the underground market from thriving. In the last eight years, there have only been three dozen convictions of child trafficking in the country—which means convictions are still relatively miniscule.