Baby Allegedly Accompanied Man on $30,000 Liquor Heist
Three people were arrested last week after a Detroit man allegedly broke into a local restaurant, stole up to $30,000 worth of alcohol and drove off with a baby in tow, according to multiple reports.
Police have not released the names of the suspects; however, all three were charged with burglary and possession of burglary tools.
According to MLive, police were dispatched to Jonathan Marks Restaurant in Troy, Michigan, on June 5 after a caller reported seeing a man standing on the establishment's roof before driving off. The caller told police that the man climbed the restaurant's ventilation system, and he was later accused of "forcing multiple doors open" and stealing several boxes of alcohol worth between $20,000 and $30,000.
The suspect's car was spotted by police on the way to the restaurant, so they initiated a traffic stop, said MLive. The driver, a 24-year-old man, was promptly arrested for driving without a license. Then, he and the vehicle's other passengers—a 19-year-old and a 16-year-old—were charged with burglary and possession of burglary tools after police found a crowbar and several boxes of alcohol in the backseat.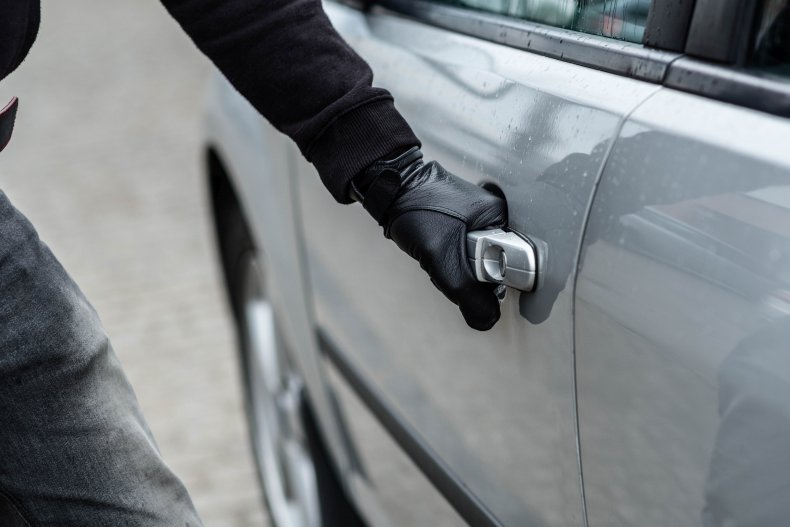 A baby belonging to one of the vehicle's passengers was also in the car during the arrest, reported WDIV. The infant has since been handed over to a family member.
The investigation is still ongoing, but Newsweek has reached out to the Troy Police Department for more information.
According to FindLaw, a legal information website, the state of Michigan treats burglaries like felonies "in most cases." Dailey Law Firm explained that those found guilty of breaking and entering "a building or structure other than a dwelling" may face up to 10 years in prison.
Additionally, "if you are accused of possessing the tools of a burglary, usually those that can help you gain access to secure areas, and it can be proven that burglary was your intended use for them, you could face this felony charge and up to 10 years in prison," the law firm said.
The unidentified suspects from Detroit aren't the first alleged burglars to make headlines in recent weeks.
On Friday, it was reported that an Alabama woman was accused of stealing nearly $500,000 from a Georgia homeowners association, where she'd been a property manager. Her alleged theft is being treated as a felony, per Newsweek.
Last month, a woman from Florida was accused of defrauding more than $400,000 away from an elderly cancer patient.
Also last month, a group of thieves reportedly returned stolen temple idols after being haunted by nightmares.