Pictures Show Baby Archie's First Royal Meeting in South Africa With Parents Meghan Markle and Prince Harry
Meghan Markle and Prince Harry's son Archie Mountbatten-Windsor has accompanied his parents on their royal tour of South Africa to the delight of dignitaries and the public alike. The four-month-old joined his parents in a meeting with South Africa's Archbishop Emeritus Desmond Tutu and his daughter Thandeka Tutu-Gxashe at the Desmond & Leah Tutu Legacy Foundation in Cape Town on the second day of the tour Wednesday.
Not only was this Archie's first visit to South Africa, but it also marked his first official engagement. The baby is believed to be the youngest member of the royal family to tour with his parents. His cousin Prince George formerly held the title after joining his parents, Prince William and Kate Middleton, on their 2014 tour of Australia when he was just eight months old.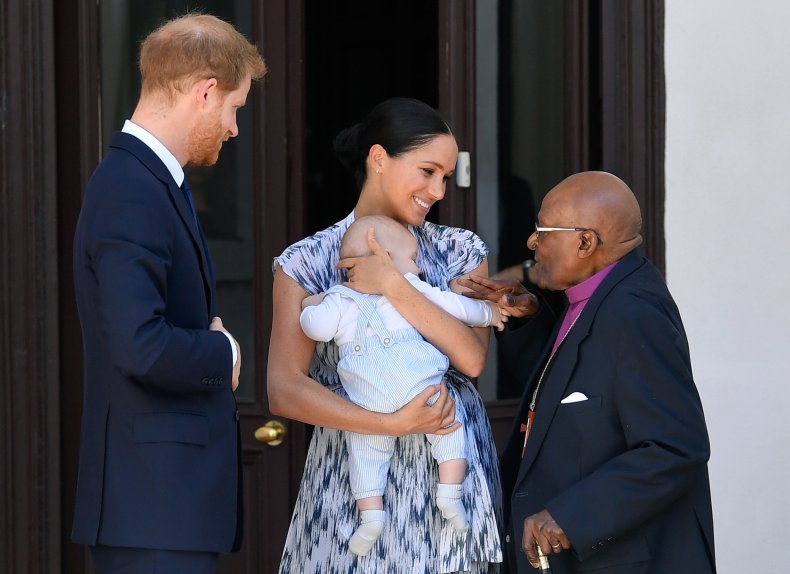 The Duke and Duchess of Sussex's royal Instagram account shared videos of Markle carrying Archie while walking down a corridor alongside her husband. With her son in tow, Markle was all smiles as the couple made their way to meet with Tutu. Harry can be heard in the video saying, "You get to meet Arch," prompting a smile and a coo from the baby.
The couple also shared photos from their meeting, including one sweet black-and-white image of Tutu planting a kiss on Mountbatten-Windsor's forehead. "This morning The Duke and Duchess were honoured to introduce their son Archie, to Archbishop, Desmond Tutu and his daughter, Thandeka," the post read.
"The Archbishop, a globally respected figure in [the] anti-apartheid movement, is one of the world's great champions of equality and has spent his life tirelessly battling injustice. Their Royal Highnesses have joined The Archbishop and Thandeka to learn more about the work of The Tutu and Leah Legacy Foundation, and see first-hand how they are focussing on global awareness of the critical issues affecting the world," it continued.
During the meeting, Archie didn't appear to be bothered by the gaggle of photographers snapping away with their cameras. He reportedly sat happily for the duration of the engagement, which lasted for about 30 minutes. Harry told Tutu that his son was "used to it already," referring to all the attention of the media, according to the U.K.'s PA Media news agency.
Markle credited her son's calm disposition on his "old soul."
While the meeting was certainly an early highlight in the life of baby Archie, it was also a special moment for 87-year-old Tutu, who has not made many public appearances since retiring in 2010. The South African statesman and Nobel Peace Prize winner, who was the first black archbishop of Cape Town, said he was "thrilled" for the opportunity to meet with the young couple and their newborn during the meeting.