What Is Baby Archie's Royal Title? Meghan Markle and Prince Harry's Unexpected Choice for Their Baby Boy
The name of the newest member of the royal family was revealed Wednesday following his birth on Monday. Meghan Markle and Prince Harry welcomed their healthy baby boy and have since named him Archie Harrison Mountbatten-Windsor, the couple announced on their official Instagram account.
"The Duke and Duchess of Sussex are pleased to announce they have named their first born child: Archie Harrison Mountbatten-Windsor," the Instagram caption read. "This afternoon Their Royal Highnesses introduced Her Majesty The Queen to her eighth great-grandchild at Windsor Castle. The Duke of Edinburgh and The Duchess' mother were also present for this special occasion."
Many royal watchers have wondered: Will baby Archie have a title? Royal correspondent Rebecca English confirmed on Twitter Wednesday morning that he would not.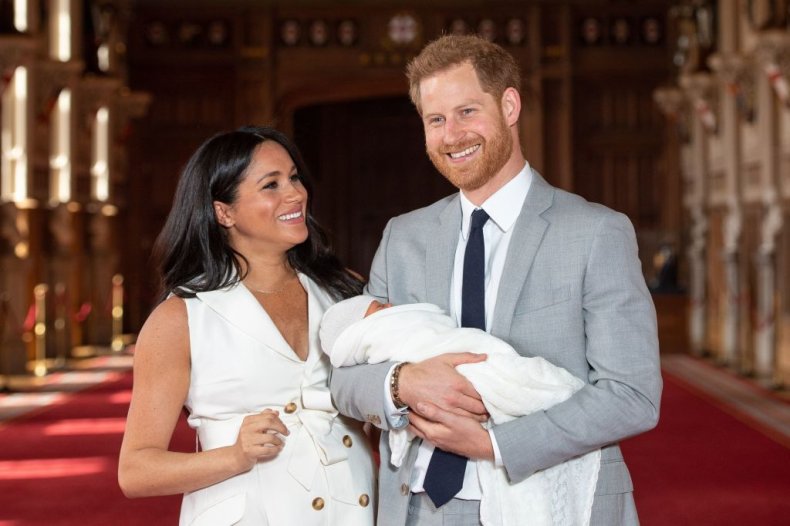 "I've had it confirmed Archie Harrison Mountbatten-Windsor will have no title," English wrote. "He will simply be Master Archie."
Unlike his cousins George, Charlotte and Louis, who all bear the title prince or princess, Archie will not bear the same title due to a royal decree made by his great, great, great grandfather in 1917.
King George V decided he wanted a "slimmed down monarchy" and decreed that the eldest living child (Prince George) of the oldest living son (Prince William) of the monarch's oldest living son (Prince Charles) should have "the titular dignity of Prince or Princess prefixed to their Christian names," according to a Cosmopolitan report.
Before Prince George's birth, however, the queen made a decree of her own, stating that all of William and Kate's children would bear the royal title, regardless of their gender.
Prior to his birth, it was predicted that baby Archie would inherit a royal title similar to his father's, Earl of Dumbarton, but thanks to the insight of the royal correspondent, it looks as if the duke and dutchess of Sussex have decided against a royal title and will give him an upbringing as "normal" as possible–similar to that of Zara Anne Elizabeth Tindall, the child of Princess Anne and Mark Philipps.