Baby Dolphin Euthanized After Losing Mother and Repeatedly Stranding Itself
A baby dolphin has been euthanized in Australia after it became separated from its mother and repeatedly stranded itself.
The three-week-old calf was spotted stranded at Seashells beach in Mandurah by local beachgoers, Perth Now reported.
Beachgoers attempted to release it back into the ocean unsuccessfully.
Volunteer group, the Mandurah Volunteer Dolphin Rescue Group, then arrived on the scene with the Department of Biodiversity, Conservation and Attractions (DBCA).
The mother was located off the Mandurah foreshore waterways, Perth Now reported, however the calf was still unable to find its way back into the depths. As it continued to strand itself, the DBCA made the decision to euthanize the calf.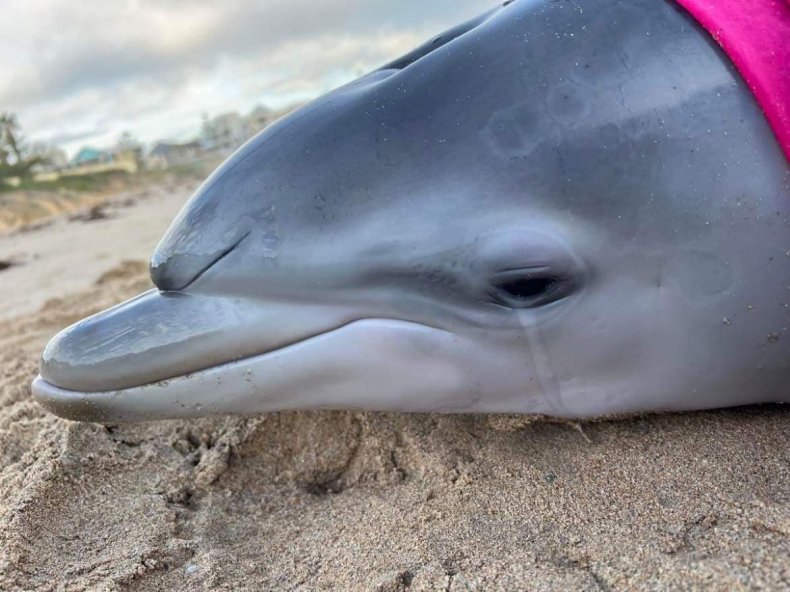 The Mandurah Volunteer Dolphin Rescue Group posted a picture of the stranded calf on Facebook, with the caption, "We are sorry. We tried."
"Today was a very difficult situation for all involved," the group said. "RIP little one."
A DBCA spokesperson told Perth Now that the decision to euthanize the calf was made "due to its little chance of survival on its own."
Natalie Goddard, a volunteer involved in the rescue operation, told the news outlet that the decision affected everyone.
The incident has triggered calls for a marine ranger to be implemented in the area, so rescue operations can be initiated swiftly.
"It's about having a prompt response so the dolphin has a better chance of survival...While we can notify DBCA and monitor the situation, we have to wait for them to come down from Perth, which can take hours, or sometimes days. If we had a marine ranger here in Mandurah, it would be a huge help to not only marine life but local wildlife in general," Goddard told Perth Now.
A petition has been launched to put a ranger in place, which now has over 32,000 signatures.
It's not uncommon for marine wildlife to become stranded, but the cause largely remains a mystery to scientists. Calves, or smaller dolphins, may become stranded because they have ventured into shallow waters after being hunted by predators.
Sickness or injury can also cause stranding incidents. Some animals, when they become confused and disorientated, will continue stranding even when they are released back into the water.
It's unclear how old the stranded calf was, but dolphins tend to stay with their mothers until they are between five and 10 years old.
Stranded dolphins can survive for a considerable amount of time if they can still breathe through their blowholes. However without water, they become dehydrated, which can eventually lead to death.