Baby Dolphin Found Stranded on Florida Beach Had 'Stomach Full' of Plastic Trash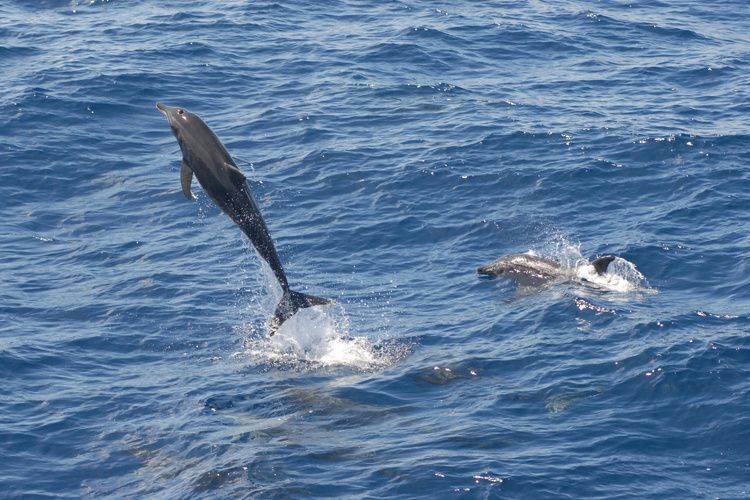 The necropsy of a baby dolphin found stranded on a Florida beach revealed that the mammal had eaten a stomach-full of trash, including heaps of plastic, the Florida Fish and Wildlife Conservation said Saturday.
The rough-toothed dolphin was emaciated after washing shore April 23 at Fort Myers Beach off the Southwest Coast. Rescue workers attempted to help the calf recover, but the dolphin was in "such poor condition" they opted for euthanization, the News-Press reported.
Pictures posted to the Florida Fish and Wildlife Conservation's (FFWC) Facebook page on Friday depict the piles of trash found inside the mammal's stomach, including "two plastic bags and a piece of balloon."
The official cause of death has not yet been determined, wildlife officials cautioned. Marine mammals "strand" for a reason, and it's oftentimes related to sickness or injury.
"Although a significant finding, there are many additional factors to consider, such as underlying illness, disease and maternal separation, before a final cause of stranding and death for the dolphin can be determined," the organization said in a statement. "Samples collected during necropsy will be sent for analysis to help with this determination."
Still, preliminary findings underscore "the need to reduce single-use plastic and to not release balloons into the environment."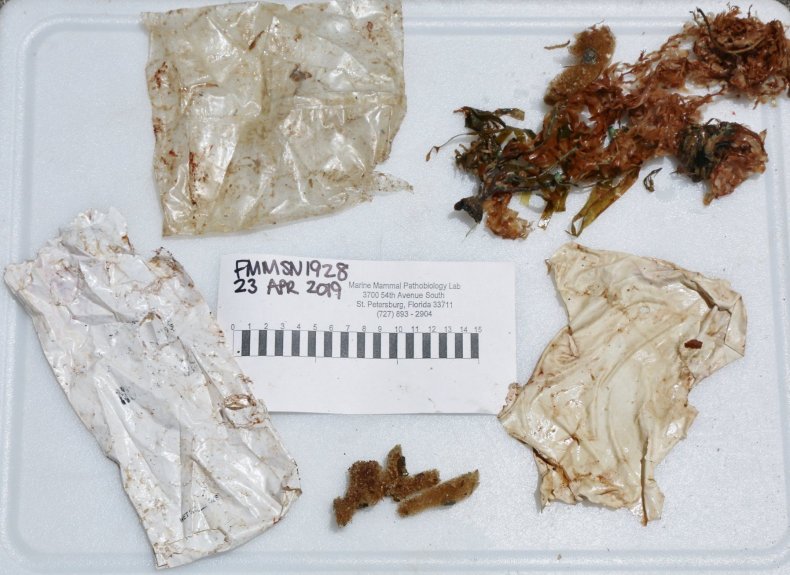 The group cautioned the public against pushing stranded animals back into the water.
"Please don't push the animal back into the water as it can delay examination and treatment and often results in the animal re-stranding in worse condition," the FFWC said.
According to the National Oceanic and Atmospheric Administration, rough-toothed dolphins number in the tens of thousands, with roughly 7,000 living in U.S. waters. When fully grown, they reach up to up to 8.5 feet in length and weigh approximately 350 pounds.
Water and trash pollution pose a significant threat to dolphins and marine life; the rough-toothed dolphin's biggest human-made foe consists of commercial fishing gear and associated debris, according to NOAA.
It's hard to estimate exaclty how much trash is in the ocean, although researchers are working to narrow down a precise figure. A 2014 study from the University of Connecticut estimates that there could be as much as 5.25 trillion particles of plastic floating in the ocean, with more undersea.
A study co-produced by researchers at the University of Hawaii and SEA Semester found that there is likely to be 79,000 metric tons of plastic floating in the Great Pacific Garbage Patch alone. Other studies have produced similarly dizzying numbers.
"Globally, many types of marine organisms—from invertebrates and fish to turtles and Wales—have been confirmed to ingest debris," NOAA said in a 2017 Ingestion report. "Direct health impacts include dietary dilution, gut blockage, starvation, laceration, ulceration and secondary infection."