Father Who Named Son Donald Trump Says He's Receiving Death Threats
A father is receiving death threats for naming his child after President Donald Trump.
Sayed Assadullah Pooya, who lives in Afghanistan, told the AFP that people on social media have threatened to kill him for naming his son an "infidel name." A lot of other people have said that he is endangering his son's life by giving him the name.
"I didn't know at the beginning that Afghan people would be so sensitive about a name," Pooya said
Donald was born in the central province of Daikundi, Afghanistan just a few short months before Trump was elected president in 2016. The toddler was born on Pooya's parents and grandparents farm where they grow wheat, corn, and almonds.
The 28-year-old dad named his son after the 45th U.S. president after reading business-advice books in Persian, including Trump's How to Get Rich, co-authored by Meredith McIver and published in 2004.
"I did a lot of research about him and that motivated me to choose his name for my son," he said.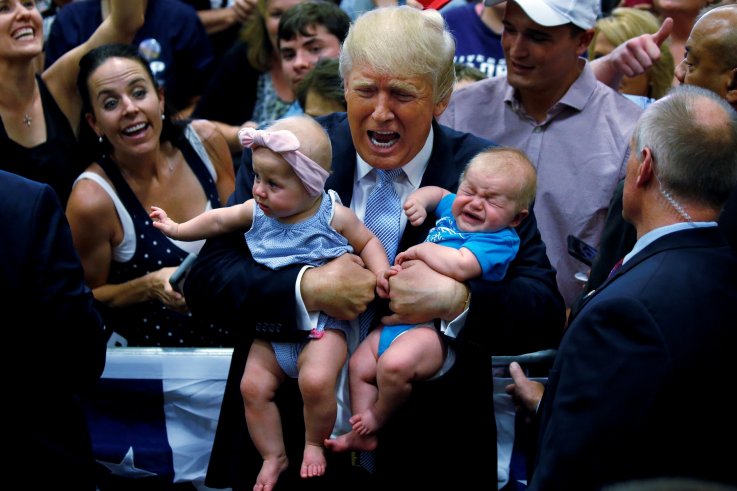 Pooya hopes his son will "be as successful" as Trump and has said pictures of the U.S. president make the boy "happy."
But, Donald's parents have not broken any law. Rohullah Ahmadzai, a senior advisor at the Population Registration Office in Kabul told the AFP that the parents have the right "to name their children whatever they want."
Pooya said while it is possible his son will be the subject of ridicule by his classmates when he starts school over his name, he stands by his son's namesake.
"I won't reconsider [his name]. To hell with the other people," Pooya said.
Newsweek has reached out for comment from the White House about the child's name. U.S. president Trump has had an odd relationship with how he views children. During his campaign for the presidency, Trump kicked out a crying infant from his rally.
Father Who Named Son Donald Trump Says He's Receiving Death Threats | World