A tragic car accident on a bridge Sunday afternoon left eight injured, including one infant who was ejected from a vehicle and sent straight into the waters of Assawoman Bay below.
According to WJLA, the incident occurred in Ocean City, Maryland just before 3:00 p.m. on the Route 90 bridge. Upon arrival, authorities found several people injured while one of the vehicles teetered over the bridge's guardrail, tenuously balanced on its edge.
In a statement posted on Facebook, the Ocean City Fire Department wrote that "a Good Samaritan immediately jumped over the guardrail and into the bay, rescuing the infant."
They called the event a "mass casualty incident" which reportedly "upgraded" the crash's status to warranting a "rescue response."
"Firefighters secured the vehicle with rescue tools, while paramedics treated multiple priority patients. Seven patients were transported by ground to various hospitals while the pediatric patient was flown to John Hopkins Children's Hospital," they added.
Photos of the crash depict a terrifying scene. At least two vehicles appear to have been involved, one of which has been entirely smashed in the front. Other shots show the vehicle from which the baby was reportedly ejected. That car, which has been flipped onto its side over the guardrail, literally dangles over the water below it.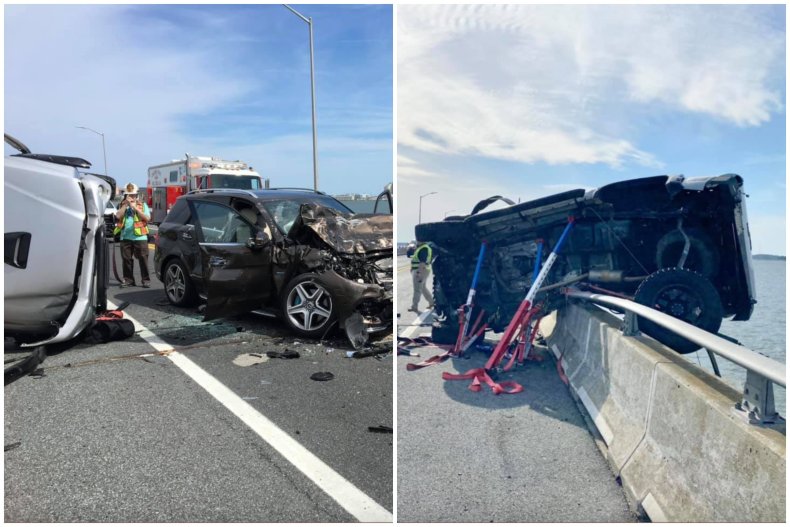 A witness, who appears to possibly also be a member of the Ocean City Fire Department in addition to a photographer, provided further details regarding the accident's horrific aftermath.
"I drove up on this accident today just moments after it occurred," wrote Rob Korb Photography on Facebook. "I immediately grabbed my radio and advised incoming units we had 5 vehicles involved, one hanging over the side of the bridge and two patients in the water. I requested police shut the road down in both directions and to start marine rescue units for the victims in the water and a heavy rescue assignment for the vehicle over the rail."
"As the story unfolded, a head-on collision resulted in an infant female to become ejected from the truck on the rail and landed in the bay below unconscious. A Good Samaritan jumped in after the child and initiated CPR and were rescued by a nearby boater who took them to land," added the statement.
According to the Ocean City Fire Department, authorities are currently investigating the cause of the accident.