Three-Week Old Baby Elephant Dies at Columbus Zoo and Aquarium
A 3-week-old baby elephant died at the Columbus Zoo and Aquarium in Ohio on Wednesday.
The female Asian elephant calf died due to a sudden illness, the zoo said in a statement published on its website.
"The calf was being monitored 24 hours a day by members of her care team. She was observed nursing overnight, but at 6:30 a.m. she appeared sluggish. The veterinary team determined she had an infection and administered fluids, antibiotics, and blood plasma from her mother, Phoebe," the post read.
"She appeared to rebound and nursed before her health rapidly declined again. A full necropsy (animal autopsy) will be conducted and results will not be available for several weeks."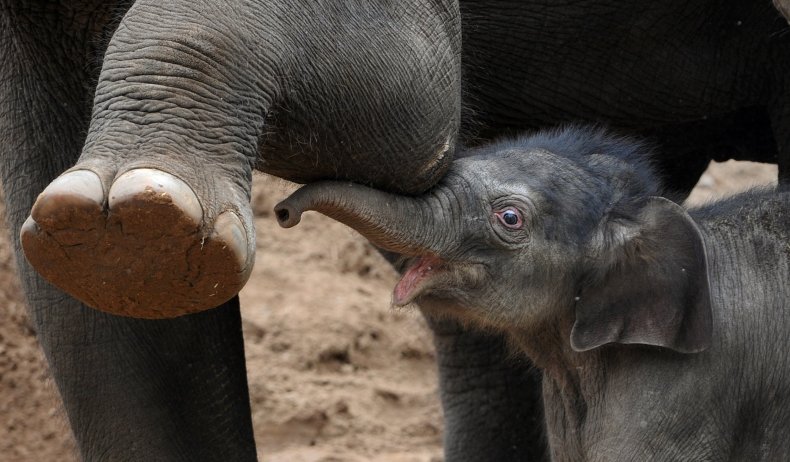 "At only a few weeks of age, this little calf had already won our hearts. She was a cherished member of our zoo family, and we are mourning her passing," Columbus Zoo President/CEO Tom Stalf said in the zoo's statement.
The baby, who was born on December 6, was conceived through artificial insemination, according to the Associated Press. The calf had not yet been named. She was the first elephant born at the facility in nearly a decade.
"We worry a little bit about infections in newborns for the first few days, but she's three weeks old," Dr. Randy Junge, who works at the zoo, told WSYX. "She's been doing well, she's been introduced to her aunts in the herd. She's been on display, quite a few times."
The death of the baby elephant comes just weeks after a baby giraffe at the zoo died during labor. The zoo conducted an emergency Cesarean section after discovering that the baby was presenting with its back hooves first, a position that means a newborn will likely not survive.
When the procedure was completed, doctors realized that the baby had "serious congenital defects and thus would not have survived if it had been born front hooves first."
Days after giving birth, the 6-year-old mother giraffe, Cami, died, according to KGTV.
"Our devoted team is truly devastated but continues to be lifted by the outpouring of concern and support we have received from giraffe lovers from around the world. The Columbus Zoo's animal care experts made heroic efforts to try and save Cami and the calves," Stalf said at the time.
Four animals have died at the zoo this year, WSYX reported.