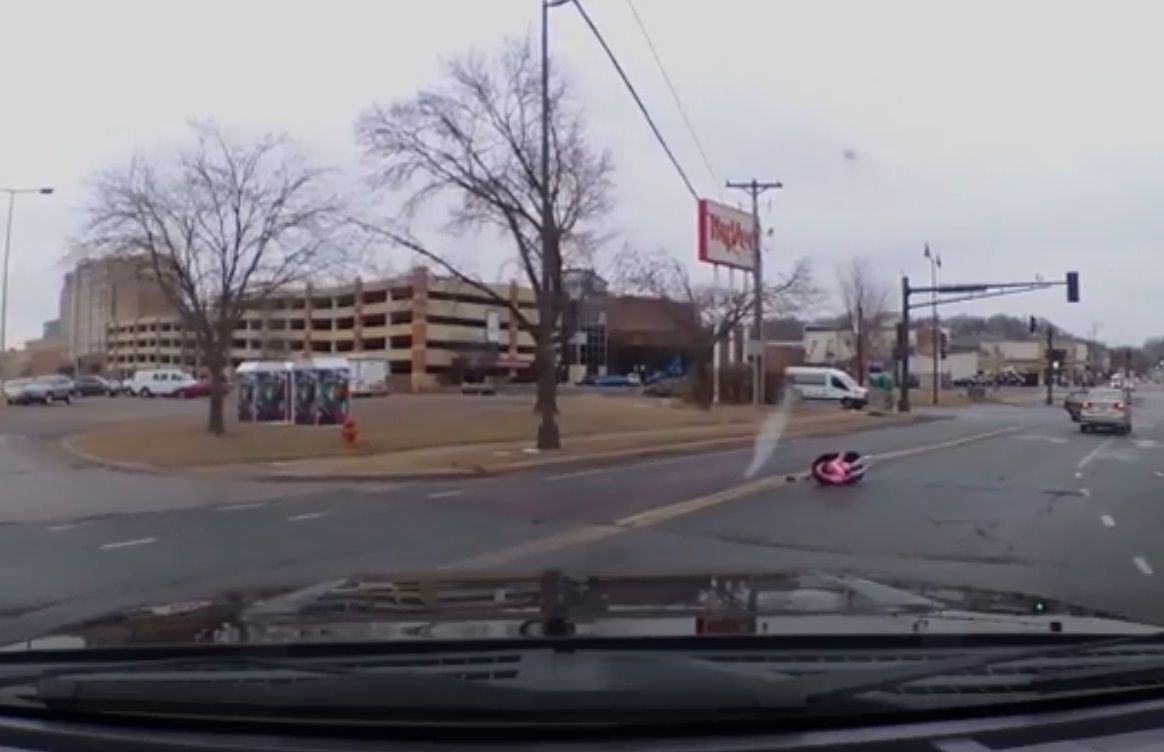 The shocking moment a baby tumbled out of a moving vehicle and onto a busy Minnesota street has been caught on dashcam by another driver. Now the parent who was driving the car at the time is facing charges.
The incident in Mankato occurred at a slight bend in the road. The video shows the car turning into the bend and a child, still strapped into its car seat, falling out as the vehicle drives on into the distance.
Read more: Police hunt for man filmed licking a family's doorbell for three hours
Chad Cheddar Mock was the driver who captured the event on his dashcam. Mock rushed out to aid the young child and other drivers also stopped to help.
"If it didn't happen in front of me I'd never have believed it," Mock wrote on Facebook where he also shared the video. "The child was OK. The parents came back. Paramedics and police checked the child out as well. Very lucky."
City of Mankato Police said in a release they were dispatched to a report of a child in the road on Minnesota Street at 11.45 a.m. on Monday.
"A two-year-old child had fallen out from the rear driver's side of the vehicle driven by the child's mother," the police release said. "The child was examined by public safety and ambulance staff and found not to be injured.
"A motorist with video footage reported the incident to public safety. The child was properly fastened inside the safety seat; however, the child safety seat was not fastened to the vehicle seat.
"Charges of child endangerment and child restraint system not fastened are being requested."
Back in September, New Jersey father Evgeniy Dorman, 41, faced child neglect and cruelty charges after his 10-month-old son was found crawling alone in the middle of a road.
The boy was spotted by a truck driver who then rescued him from the traffic. An image of the incident went viral on Twitter.
"I was riding in my work truck on my way to another job, saw something in the middle of the street, wasn't exactly sure what it was," the 41-year-old driver Cory Cannon said, reported ABC 7.
"So I started to slow my truck down, so I could slow the traffic behind me, just in case it was something that could have done damage to the car, let alone it being a child.
"When I saw the child move, that's when I moved in to block off traffic and get myself out of the middle of the street."