Baby Food: High Level of Heavy Metals Found
Foods for babies and toddlers contain high enough levels of heavy metals to warrant concern, a report released Thursday said.
Consumer Reports revealed that many popular foods for young children contain arsenic, cadmium and lead. Its report showed the affected foods include popular snacks, prepared entrees, cereals and packaged fruits and vegetables.
According to a 2017 Nature study, exposure to high levels heavy metals of heavy metals can lead to developmental delays in young children. On the hazardous heavy metals list from the Agency for Toxic Substances and Disease Registry, arsenic is number one, while lead sits at number two, and cadmium at number seven.
"Babies and toddlers are particularly vulnerable due to their smaller size and developing brains and organ systems," says James E. Rogers, Ph.D., director of food safety research and testing at Consumer Reports said in the report. "They also absorb more of the heavy metals that get into their bodies than adults do."
A different Consumer Reports study found that 90 percent of parents with children ages three and under feed their children packaged food. Baby food sales top $53 billion dollars a year and are expected to continue to rise. For this report, the team tested 50 products that are distributed nationally for heavy metals.
The team found that 15 out of the 50 foods would pose a potential health risk for a child if they regularly ate just one serving or less a day. Every single product they tested had measurable levels of arsenic, cadmium, or lead, and two-thirds had "worrisome" levels of one of the metals.
The foods that were especially likely to contain high levels of heavy metals were those that contained rice or sweet potatoes. It didn't matter if the food was organic either—they were just as likely to contain heavy metals as nonorganic foods.
While a majority of the products came from Gerber or Beech-Nut, some also came from Plum Organics, Sprout, Earth's Best, Baby Mum-Mum, Ella's Kitchen, Parent's Choice (Walmart) and Happy Baby.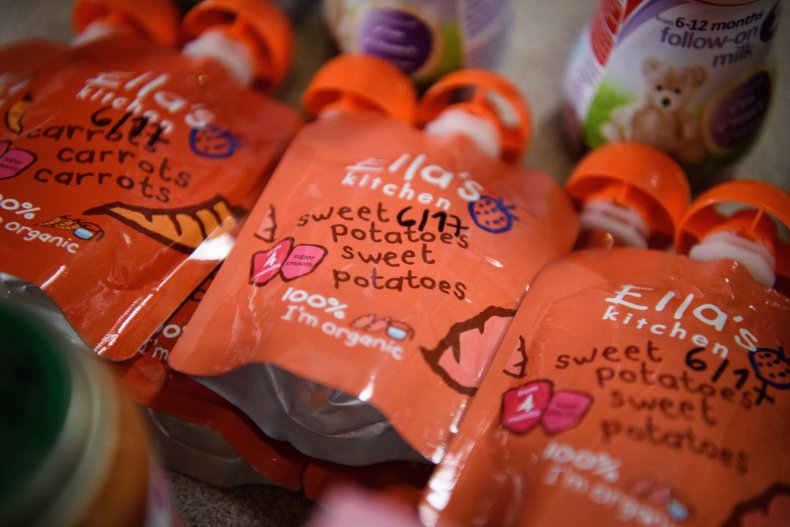 Snack foods like bars, crackers, cookies, crunches, puffs, crisps and rice rusks were generally problematic because of their rice content. A Consumer Reports survey revealed that 72 percent of parents feed their children at least one of those types of snack foods.
The U.S. Food and Drug Administration told Consumer Reports, "The agency has made this a priority and is working to reduce the health risks these elements present, especially to those most vulnerable: children."
Gerber said in response to the claims, "Gerber prides itself on our dedication to nutritious, high-quality and safe food. All of our foods meet our safety and quality standards, which are among the strictest in the world. Our rigorous standards are developed by evaluating the latest food safety guidance—from sources like the Food and Drug Administration, Environmental Protection Agency, and international health authorities. Gerber also partners with our farmers and our ingredient and packaging suppliers to control, reduce and limit contaminants in all our foods.
Many elements occur naturally in our environment—so it's possible that trace amounts may get into fruits, vegetables and grains as they grow. That's why we regularly test our ingredients, and periodically test our finished foods. We want to reassure parents that we never compromise on the safety or quality of our foods."
This story has been updated to include a comment from Gerber.