'Good Guard Dog': Pet Guarding Goats by Snuggling Up to Them Melts Hearts
What's the sign that you have a good guard dog? The answer may be 'snuggles,' if a recent viral TikTok video is anything to go by.
A video uploaded by Sadie Bishop Perera (also known as @sadiebishopperera4) shows a whole harem of baby goats cuddled up between the legs of a sleeping dog.
"You know you have a good guard dog when you come in to see this," a voice from behind the camera says, before one of the kids bleats as though in response.
The video, which was tagged with the likes of #livestockguardiandogs and #goatsareawesome, has garnered over 3,000 comments, many of which expressed adoration.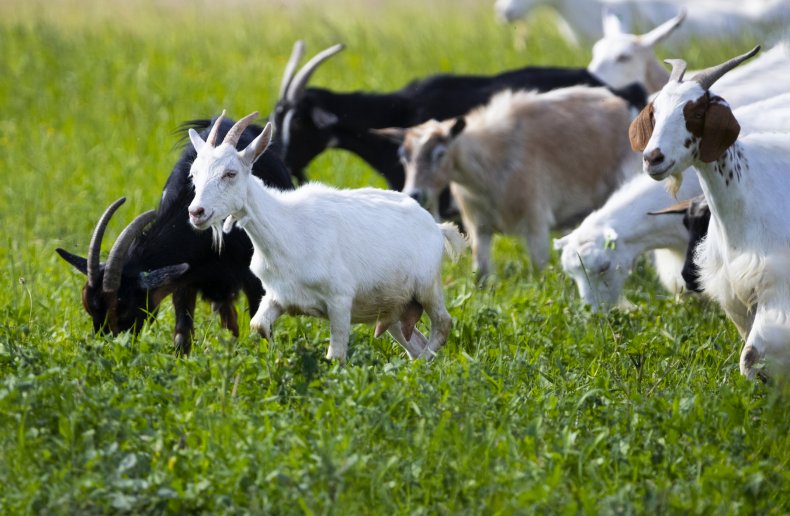 User @HWWT, wrote "Safest place on the farm." @Heather Mat commented that it seemed like the goats themselves were graciously letting the dog take a break, writing, "they were like 'let the dog sleep, it's break time for them.'"
When user @Sarah Jenkins commented "Guard dog or babysitter?" original poster Sadie Bishop Perera wryly replied "A little of both."
User @croftsgrace joked that the video looked like "mama goats dropping the kids off at daycare," while User @Roseylicous wrote "got that right, and that little one just told you to leave. lol they're safe."
Interestingly, research published in the past few years has shown that dogs aren't the only animals who exhibit an enhanced capacity to communicate with humans: goats do too, according to an article published in Biology Letters.
Researchers aimed to investigate "human-directed behaviour in an 'unsolvable problem' task" in domestic goats.
During the study, they observed the responses of goats who were presented with both a forward-facing human and an away-facing human. The goats "gazed towards the forward-facing person earlier and for longer and showed more gaze alternations," according to researchers.
"Our results provide strong evidence for audience-dependent human-directed visual orienting behaviour," they wrote.
Is this why the 13 kids in the video are so comfortable napping with the dog? Who's to say? But there is one thing we do know for sure: the video is truly adorable.
Commenting on the baby goat that bleats in the video, @YellowSubmarine7 wrote "That one baby goat was like, 'Hey! You're interrupting naptime!'"
@Just/a/random/account joked that the dog is almost invisible due to the number of kids surrounding it: "A coyote or something's gonna walk up on the babies thinking ur dogs a goat and get humbled real quick."
But @Mimi may have summed it up best with her comment: "I wanted to hit the love button 5 million times."
Newsweek reached out to @sadiebishopperera4 for comment.