Farmers in a popular tourist area in South Wales are warning visitors to refrain from taking selfies with animals after a horse plunged to its death earlier this year.
Nicky Beynon, 60, a farmer whose family has worked in the fields in Gower for hundreds of years, had one of his horses fall off a cliff and onto a beach below just hours after it had been born, according to various reports.
The National Trust, Europe's largest conservation charity, looks after the countryside, historic buildings, the environment and its animals.
A spokesperson for the Trust told Newsweek via email on Wednesday that Beynon is a tenant farmer who uses the land for grazing. They confirmed Beynon's recounting of events.
"Rhosili and the Gower Coast is home to a variety of special wildlife and livestock that grazes freely across the common land and meadows," the spokesperson said.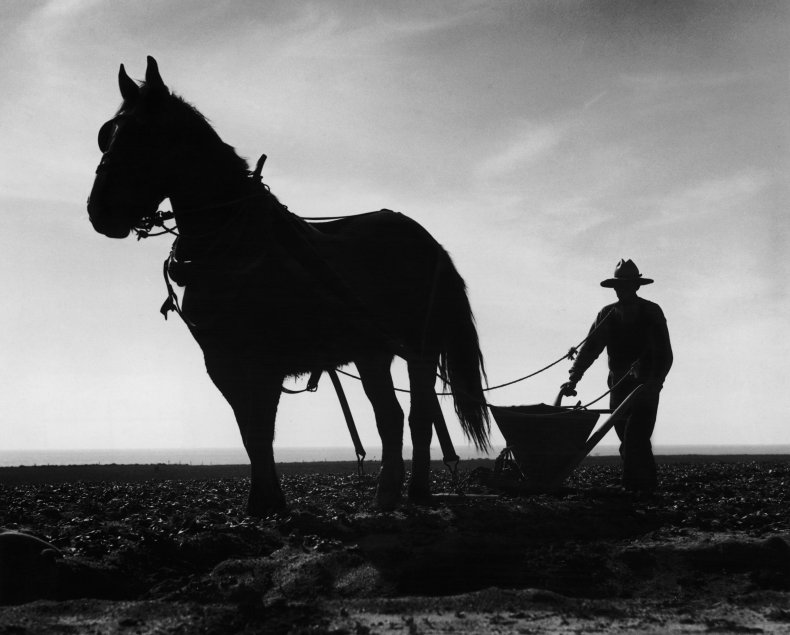 They implore those who visit Rhosili to follow the "countryside code" and observe the following guidelines:
Be mindful of all the creatures here, including the horses, ponies and sheep, by giving them space and taking pictures from a distance using a zoom function to minimize any disruption and stress caused to them.
Do not approach the animals.
Help protect the region by also keeping dogs on short leads around animals, closing gates and taking litter home.
Visitors putting 'stress' on animals
The foal was still learning to stand and get to his feet, Beynon told Sky News, when he was reportedly barraged by visitors who attempted to take photos with the young animal.
"The mother is distressed and there's only one way to get away from the humans is to keep backing back out the way and on one side you've got a cliff and one side you've got humans and the foal just tumbled over the top," Beynon said.
The horse's mother was "frantic" afterwards, he added, and required about a week "to settle down from her loss."
Beynon, who farms in Llangennith and Rhossili, told the BBC that the foal's birth occurred "a couple hundred yards" away from the cliff's edge. As visitors took in the scene and attempted to be part of it with photo evidence, it pushed the foal and the mare nearer to the edge.
He didn't know about the death until half an hour later.
The incident followed the deaths of three of his ponies last year after being hit by cars.
He is pondering the future for his other horses due to what he describes as harassment from visitors. A separate incident in 2022 involved someone flying a drone some 10 feet over one of his horse's heads.
"There's people flying drones there every day, and these things are capable of filming from hundreds of feet away, the same thing with zoom lenses," he said. "There's no need to touch the horse or get so close."
He added: "They all want to take a photograph, but they don't realize what they're doing—the amount of stress they're putting on the animal."
In a September 6 Facebook post, the National Coastwatch Institution (NCI) urged visitors to take photographs from a distance.
"Almost every day, whilst driving to and from our hut we see members of the public trying to stroke or take selfies with the horses," the post stated. "We do stop when we see it happening and explain that the horses are semi-feral or wild.
"It was only recently we had to transport a young lady up to the car park after she had been kicked by a stallion near our hut. We did what we could first aid wise but she found walking difficult.
"Obviously, we will always do what we can in these situations, but we wish people would keep their distance from the horses. Keep your distance and use the zoom facility to get close-ups. Stay safe around horses."
Newsweek reached out to the NCI for further comment.