What Is Meghan Markle and Prince Harry's Baby's Name? Betting Odds Say These Monikers Are the Top Picks
The Duke and Duchess of Sussex welcomed a baby boy to the world Monday, and fans of the couple couldn't be more pleased. Meghan Markle and Prince Harry are taking a few days to themselves before making an appearance in front of the press and adoring fans. The couple is also waiting to announce the name of the new royal baby.
When Harry met with reporters Monday he said, "Mother and baby are doing incredibly well; it's been the most amazing experience I could ever possibly imagine. How any woman does what they do is beyond comprehension, but we're both absolutely thrilled."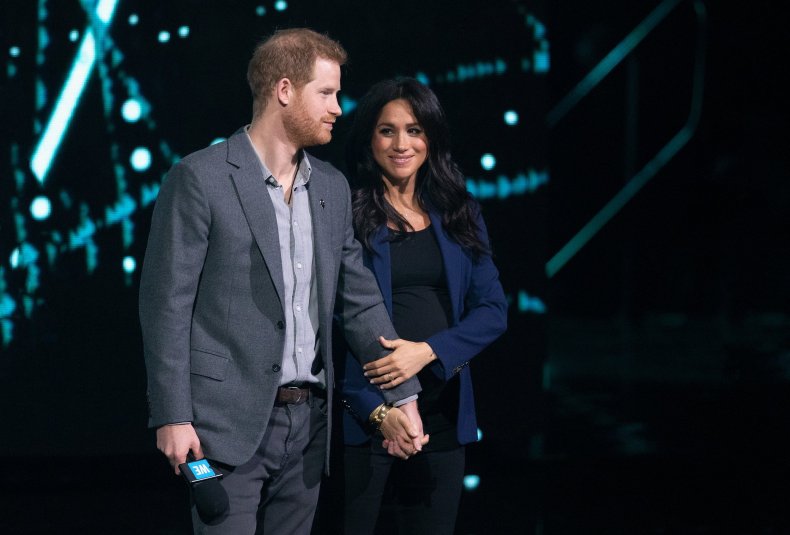 "Still thinking about names," he said. "The baby's a little bit overdue so we've had a little bit of time to think about it but, that's the next bit." Harry also said they would likely see reporters in two days, possibly to announce the name of their baby, who was 7 pounds 3 ounces.
Before the baby's name was announced, people were betting on what the couple might ultimately decide on. Depending on where bettors look and place their bets, different names are in the lead.
"Arthur has headed the betting since Prince Harry's announcement this afternoon, but Alexander is by far the biggest mover in the last few hours and is now second favorite," Alex Apati with Ladbrokes told Newsweek Monday.
Arthur and Alexander are followed by Albert, then James, then Alfred. Other names in the running were Philip (presumably after the duke's grandfather), Thomas, Spencer, and the other family names Charles and Edward.
At Paddy Power the leading names were a bit different. Alexander and James were tied for first place, followed by Arthur and Oliver.
Harry and Meghan opted out of the traditional photo op outside the hospital following the birth and instead are taking some time before going public with their new child.
The House of Sussex announced the birth on Instagram Monday with a photo proclaiming, "It's a boy!" The caption on the photo read, "More details will be shared in the forthcoming days."
Betting odds for the names could change in the days leading up to the announcement.