The Reason 2020 Has Been So Bad? Some People Are Blaming #BabyNut
Has the year 2020 felt incredibly grim to you so far? Amid the coronavirus pandemic, 2020 does seem to be a bit more shadowed with darkness than other recent years. And to think, we're only three months in!
Well, if it's any comfort, you're not alone in feeling like 2020 might be cursed, and there are even some people on the internet who claim to know why exactly why this year is off to such a terrible, horrible, no good, very bad start: the birth of #BabyNut.
That's right, people on social media are blaming Planters' new tiny, nutty mascot for all the things that have gone wrong in 2020. "I can't name a single good thing that has happened since you were born. This is all your fault," Twitter user @goodbeanalt wrote on Tuesday in response to a tweet shared by Baby Nut in February.
Plenty of other users felt the same.
"Notice how the world has gone to absolute s**t once #BabyNut became a thing? interesting....," one person wrote.
"This is all because Planters killed Mr. Peanut and made all of us witness #BabyNut with our own two eyes. This is our reckoning," wrote another.
It's true that since late January, when Planters confirmed the "death" of its beloved original mascot, the monocle-wearing Mr. Peanut, several tragedies have rocked the world. More parts of Australia were devastated by catastrophic wildfires, locusts invaded and continue to wreak havoc on East Africa and hundreds of thousands of people have been infected by the novel coronavirus.
But it's crazy to think that the arrival of an adorable little anthropomorphized nut could've brought on such horrors. So naturally, some people came to Baby Nut's defense.
"Can someone tell me why you people are bullying this poor thing?" a Twitter user wrote.
Another condemned those crusading against Baby Nut to the fiery pit: "No offense but anyone who's cyber bullied #BabyNut is going to hell."
Then there were those who weren't necessarily offended by the arrival of Baby Nut—just by how Planters went about revealing his birth. The top-hat-clad baby peanut debuted during a Super Bowl commercial that aired on February 2: During an outdoor funeral for the original Mr. Peanut (who died sacrificing himself to save Wesley Snipes and Matt Walsh following a road trip accident—long story), a vine pops out of Mr. Peanut's burial plot and then boom, Baby Nut emerges from the ground.
But even though the commercial premiered during Super Bowl LIV, it apparently just recently started making waves on regular broadcasting channels. Now that it's being seen by more people on a regular basis, some TV viewers have found the commercial's lighthearted morbidity insensitive, considering the coronavirus pandemic, which has resulted in the deaths of more than 20,000 people around the world.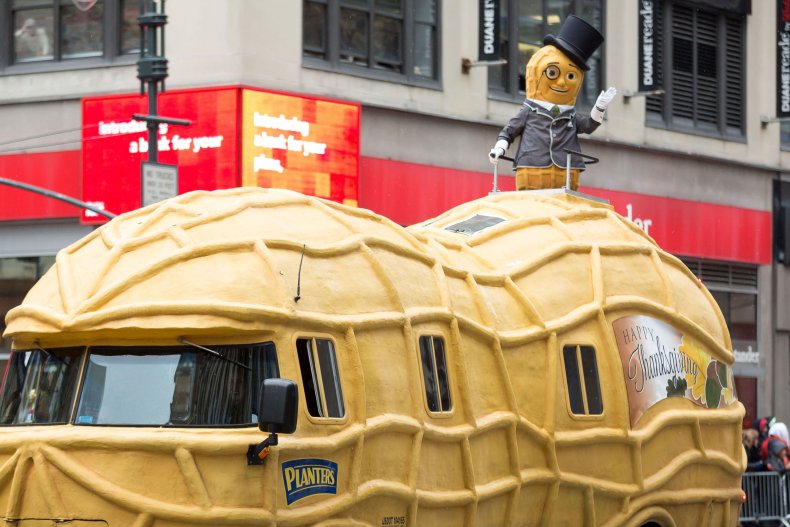 "@MrPeanut I just saw your insensitive ad. I'm watching a news program about hundreds of Americans getting sick and dying of COVID-19 and you have an ad mocking a funeral? What are you thinking? #BabyNut—you may want to hold the ad until after the pandemic," one Twitter user wrote.
See a few more reactions to Baby Nut below.