Heartbreaking Picture Shows Baby Rhino Perched Next to Dead Mother Killed for Her Horns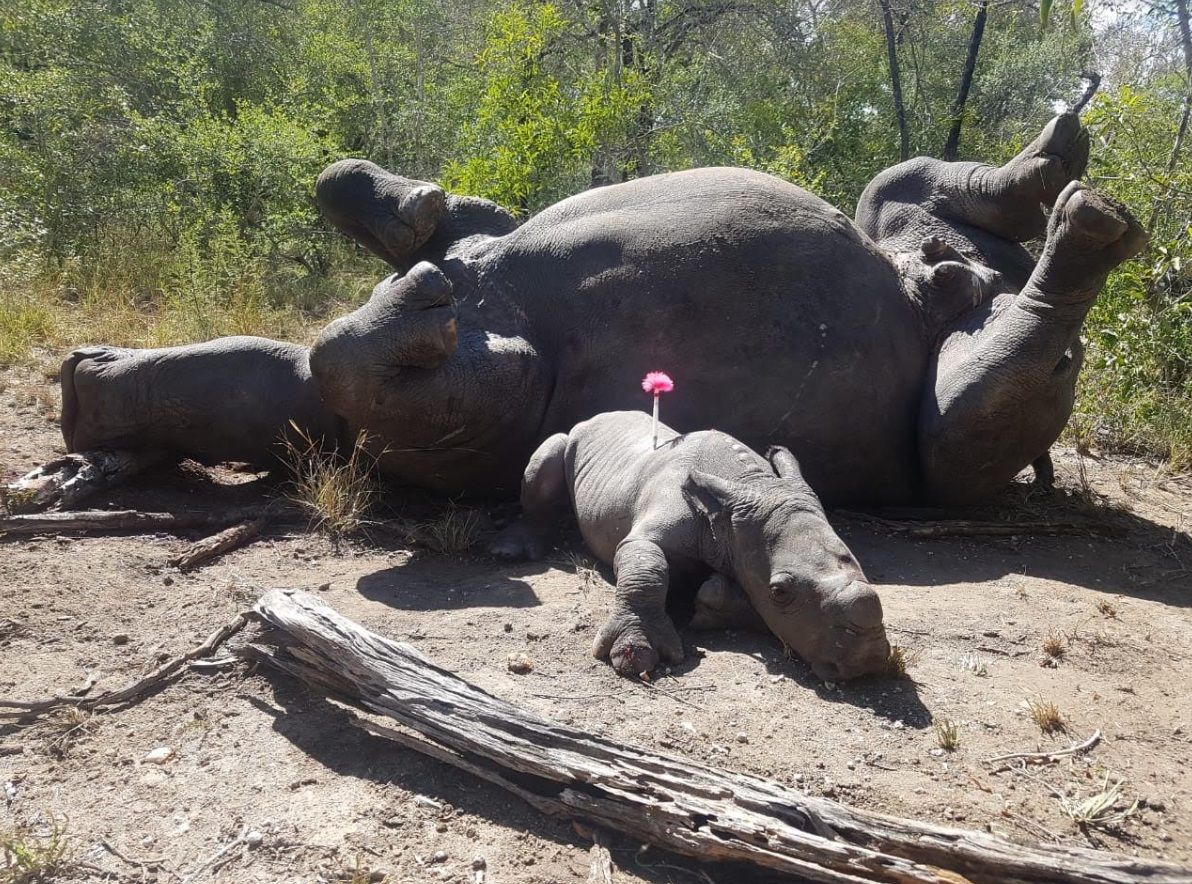 A heartbreaking photo taken by conservationists has captured the moment they found a baby rhino who was attacked with a machete as he tried valiantly, but vainly, to protect his mother from poachers.
Arthur the rhino calf, as he is now named by those who saved him, had a deep cut to the nail on his right toe and a large gash on his back where the machete had hacked through cartilage close to his spine.
His white rhino mother was found dead with both horns—highly valuable to poachers who can sell them on the black market—removed from her head. Rhino horns are popular in East Asian countries, such as China, where they are often used in medicine or as a symbol of wealth.
The incident took place in Kruger National Park, South Africa. According to a release by Care for Wild, a local sanctuary, park rangers were alerted in the morning of May 20 to a gunshot in the Skukuza section. They found the dead rhino cow and her injured calf.
The calf was stabilized by a vet and transported by helicopter to Care for Wild Rhino Sanctuary, the largest such sanctuary and rhino orphanage in the world. Hours later, sanctuary staff were relieved when Arthur took a bottle of milk while still on a drip.
"The jubilation felt by the staff was indescribable as this is a huge step in the extensive rehabilitation process," said Jooles Kilbride, a spokesperson for Care for Wild.
"In the days since his rescue his blindfold has been removed and he has once again felt the warm African sunshine on his skin. He has been given the regal and brave name of Arthur, a name that suits his determination and spirit to survive.
"He still calls for his mother, it is a heart-wrenching sound and one that he should never have to make. Her death will affect him emotionally long after his physical wounds have healed. A rhino calf stays with his mother for up to three years and in that time, she teaches him everything he needs to know, from what to eat and how to keep himself safe."
In comments to Newsweek, Kilbride said Arthur "turned a corner" in his recovery and moved into a permanent boma (a livestock enclosure) with his friend Summer. But since then, the sanctuary has more rhino orphans on its hands thanks to poaching.
"Two more rhinos came in one of which, now named Sophia, is recovering from serious wounds inflicted by hyena as she was without protection as her mother had been poached," Kilbride said.
"Basically the hyenas were trying to eat her alive which is another side to the brutality of the poaching epidemic. These babies cannot protect themselves without their mothers."
Care for Wild warned that rhinos could be extinct in the wild within 20 years unless poaching is decisively tackled by governments.