"Baby Shark Live": When Is Baby Shark Touring The U.S, Where To Buy Tickets?
The makers behind the YouTube-devouring earworm "Baby Shark" have announced that there will be a 100-date U.S. "Baby Shark Live" tour.
According to the Baby Shark Live website, Baby Shark will join his friend Pinkfong to sing and dance through children's favorite classic songs, plus a few new ones. Described as a "one of a kind" live experience, young fans will be dancing in the aisles as Baby Shark and his friends go on fun adventures to learn about shapes, colors, numbers and more.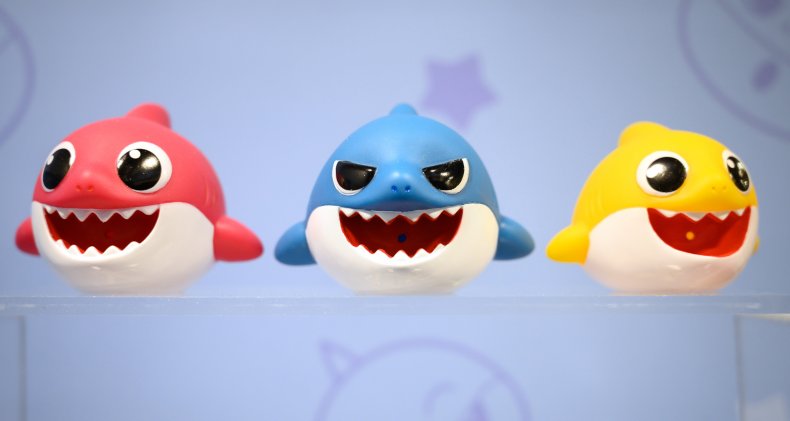 The tour dates for "Baby Shark Live" will be announced in July, and parents can sign up for discounts and updates on the website.
What is "Baby Shark"?
Thought to have originated as a campfire song, and currently the center of a copyright battle, "Baby Shark" is a K-Pop song about a family of sharks. It became a social media sensation in the 2010s for its catchy tune and easy-to-remember lyrics. The song was released in 2016 by Korean children's entertainment brand Pinkfong, and entered the Billboard Top 40 and the U.K. singles chart, peaking at No. 6.
Pinkfong, itself, is a fox with boundless curiosity, used by the brand for educational purposes. He teaches children in everything from short songs to long animated stories, as well as toys and books, according to the Pingfong website. The company has created over 4,000 pieces of content, had 150 million app downloads, more than 10 billion YouTube views and over 700,000 books sold.
The company also sells products for children. Baby Shark Sound Books are carefully designed to ensure an optimal learning experience for children aged 0-3. Each book carries 10 songs and are available in English, Chinese and Korean. There are stuffed toys available in the form of the Shark Family Sound Doll; squeeze the tummy to hear a "Shark Song." Pinkfong also has a First English, a collection of books, videos, music and learning devices, as well as a Pinkfong Smart Pen. Children can read the classic Mother Goose stories, dance to the Pinkfong videos and practice with various compatible supplements for vocabulary building.
Its website also states that a new animated TV series featuring Pinkfong and his friends will air this year.
The song "Baby Shark" is currently part of a copyright battle between Pinkfong and Johnny Oh, who created his own version of the song. The song itself is not subject to copyright as it is classed as a traditional song.