Baby Thrown in River, Mother Assaulted by Smugglers Before Entering U.S., Texas Officials Say
A 6-month-old baby girl has been rescued from the Rio Grande and reunited with her mother, who was assaulted by smugglers before the pair arrived in the U.S., according to Texas officials.
Texas' Department of Public Safety's Lt. Christopher Olivarez told KVEO-TV that the mother and child had been waiting in Mexico since December to cross the border.
Olivarez said that the mother paid $3,500 to smugglers to help the two of them cross the Rio Grande. He added that the mother was assaulted by the smuggler while in Mexico—an incident which resulted in a broken leg.
The two were among other migrants crossing the river to Roma, Texas, in rafts. They were joined by 67 adults and 150 children. But while crossing, the 6-month-old baby was thrown out of the raft.
Texas DPS's South Texas Special Operations Group helped U.S. Border Patrol rescue the baby on March 16.
"This specialized group is a highly trained tactical team whose primary responsibility is to carry out specific missions, usually along the Texas-Mexico border region or wherever needed," DPS wrote in a Tuesday Facebook post.
"The team is designed to conduct both overt and extended covert operations in remote areas where conventional law enforcement cannot operate. The teams focus is to gather intelligence, conduct interdiction, and disruption of criminal activity usually associated with drug cartels," the department added.
The baby was "safe" and is now with her mother in Border Patrol custody.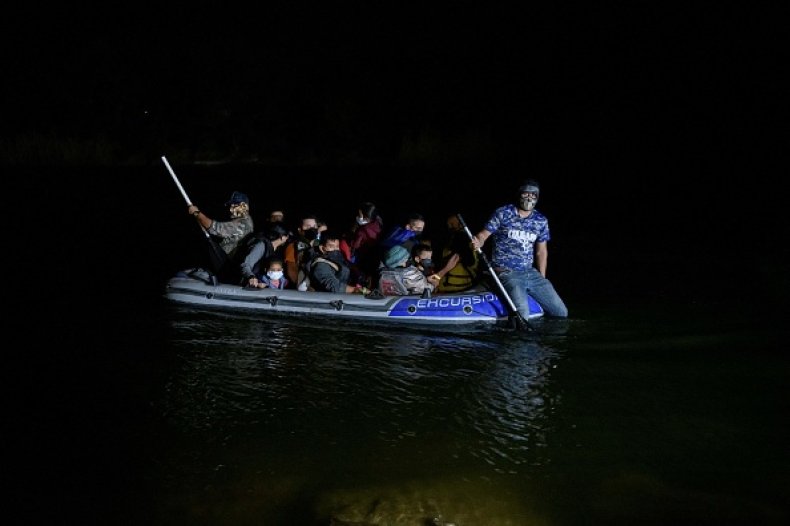 The mother and child are among thousands of migrants who have tried to cross the southern U.S. border in recent weeks. The inauguration of President Joe Biden has resulted in an influx of Central Americans who wish to seek asylum in the U.S.
However, the surge in numbers has overwhelmed Border Patrol facilities and made it difficult for the Biden administration to roll out its new immigration policies.
There has been a notable increase in the number of unaccompanied children who have tried to cross the border. Under Biden's leadership, migrant youth cannot be sent back to Mexico but are rather placed into federal shelters before they are sent to live with family in the U.S. while they await their immigration cases.
Last week, federal authorities announced that a 9-year-old migrant girl drowned while trying to cross the same river. It was the first reported death of a child in the new surge of migration.
Border Patrol agents responding to a rescue call found the girl, her mother and her brother on an island in the Rio Grande. Authorities were able to resuscitate the mother and younger child, a 3-year-old boy, but the girl remained unresponsive even after she was transferred to emergency medics in Texas, and was later pronounced dead.
Newsweek reached out to the Texas Department of Public Safety for further comment but did not hear back before publication.