Baby Trend Stroller Recalled Due to Fall Hazard For Children
A baby stroller has been recalled due to a hazard affecting 2,000 units.
According to the U.S. Consumer Product Safety Commission the Tango Mini Stroller, which is manufactured by Baby Trend, was sold at Amazon, Target stores and on the Target website. According to the website, this recall involves four models of black Tango Mini Strollers. The stroller cost between $100 and $120.
Each has its own model number and is identifiable by a uniquely colored bonnet top sold in Quartz Pink (model number ST31D09A), Sedona Gray (ST31D10A), Jet Black (ST31D11A) and Purest Blue (ST31D03A). Model numbers are printed in black on a white sticker located on one of the stroller's legs.
The hazard on the strollers involves the hinge joints, which can "release and collapse" under pressure. This, according to the U.S. Consumer Product Safety Commission, poses a fall hazard to children in the stroller. The product was recalled on January 16, 2020.
Owners of the affected stroller need to immediately stop using the recalled strollers and contact Baby Trend for a replacement or full refund, says the Commission. It is believed that around 2,000 strollers or units are affected.
The manufacturer, Baby Trend, is a California based company and says that it was the first to produce the Snap-N-Go and Sit N' Stand strollers, both of which have won numerous awards. It also produces car seats, high chairs and activity products, according to its website.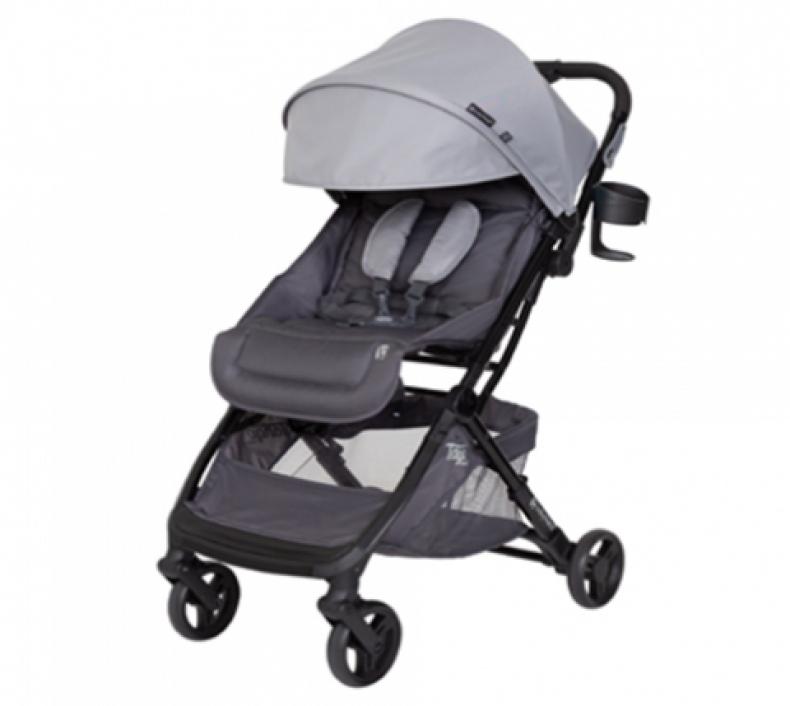 The company is providing customers who purchased the specific models with a free replacement or refund and it advises customers to not return the stroller to the retailer they purchased it from. Owners can contact Baby Trend's customer service at 1-800-328-7363 or via email at info@babytrend.com.
"At Baby Trend, safety is our number one priority and we design, engineer, and test all our products with that in mind," according to the Baby Trend website. "As part of our rigorous process, we recently identified a potential safety issue. Since we strongly stand by our safety priority, we have decided to voluntarily recall certain models of the Tango Mini Strollers."
The models at issue are easy to identify by checking the model number on the label located on the inside of one of the rear legs.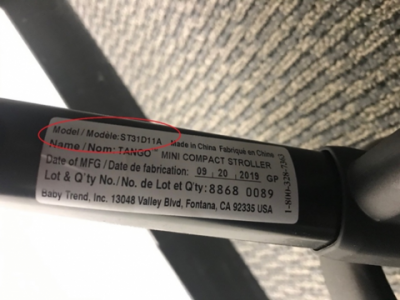 There have been other recalls from Baby Trend including the Hybrid LX 3-in-1 booster seat. According to the company's safety page, the recall only affects "a total of 34 seats" which are only sold at Walmart. The model numbers affected are FB48417 (manufacture date July 14, 2016) and FB58181 (manufacture date July 23, 2016). According to the U.S. Consumer Product Safety recall records, there are 11 recalls associated with Baby Trend dating back to 1993.
At the time of reporting, there were no incidents or injuries reported by the Commission on its website. The recall number for this stroller is 20-052.