Baby Wallaby Mysteriously Goes Missing From Detroit Zoo
A baby wallaby has mysteriously gone missing from Detroit Zoo, officials say.
The 5-month-old wallaby joey was last seen by zoo staff around 5 p.m on May 7, the zoo said in a Facebook post.
The young wallaby had only just emerged from its mother's pouch, "beginning the process of independence." Wallabies stay in their mother's pouch for up to eight months. During this time, they may begin venturing out for just a few seconds at a time.
The missing joey is still very much reliant on its mother's milk and the zoo fears it will not survive much longer without her.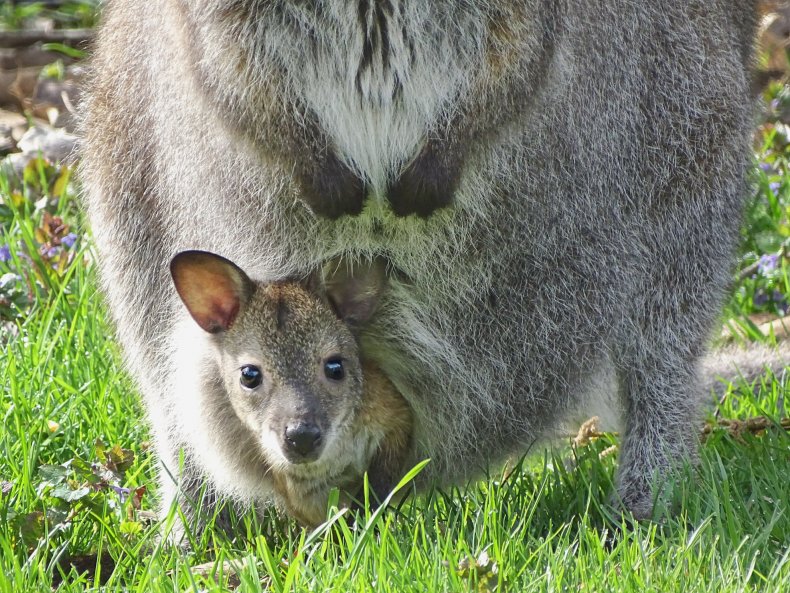 "Immediately, animal care staff began searching for the little one. Zoo staff is carefully examining the habitat and areas around it while also reviewing trail cameras and surveillance cameras all over the Zoo," the zoo said in a statement posted to Facebook. "It is unlikely that the young wallaby can survive an extended amount of time away from the mother. We are reviewing every potential scenario and remain hopeful this joey will be found unharmed."
Detroit Zoo told Newsweek that as of May 9, there are no updates as to where the baby wallaby could be.
The wallaby's arrival to the zoo had only just been announced. The baby has not been named, and zoo staff had not even confirmed whether it is male or female. The mother is a 4-year-old red-necked wallaby named Sprocket.
Facebook users have commented on Detroit Zoo's statement, speculating as to what may have happened.
One Facebook user, Colby Renee, said she spotted something on her recent visit to the zoo that may help the zoo solve the mystery.
"I was there yesterday and we went through the exhibit at about 4 ish and my daughter saw something outside of the fence in the back outside of the exhibit and I thought it was a squirrel but it looked bigger than a squirrel so I just assumed it was some other kind of animal..." Renee said.
The zoo replied to Renee's comment, asking for more information on her sighting.
However, some are doubting whether the baby would have been able to climb the walls of the exhibit.
Another social media user, Beth Ricci, wondered if the zoo had any other wallabies, and whether another female would have taken the baby.
Amy Thompson said the mystery sounded like an "inside job."
The zoo has housed baby wallabies before. Another was born in 2020, becoming the first to be born at the zoo for 20 years.
Update 05/09/22, 10:44 a.m. ET: This article was updated to include comments from Detroit Zoo.