Baby Yoda: Build-A-Bear to Add 'The Child' from 'The Mandalorian' to Its 'Star Wars' Stuffed Toy Collection
Build-A-Bear will soon let you build your very own Baby Yoda—great news for everyone who missed out on buying their own The Child plush after Disney sold out.
Everyone's favorite character from The Mandalorian, The Child—better known as Baby Yoda—will soon be ready for you to take home. Build-A-Bear announced at the ICR Conference in Orlando, Florida, it would be adding Baby Yoda to its line of cuddly toys.
Sharon Price, CEO, said: "I'm excited to share we will be one of the first companies to provide the digital and internet phenomenon who is trending higher than all the presidential candidates combined. We now will have The Child, also known as Baby Yoda."
While there are no official photographs of the Build-A-Bear Baby Yoda, a photo leaked by Kate Taylor from Business Insider shows her holding up a plush Baby Yoda.
An official launch date has yet to be announced, but it is set to hit stores in the next few months. Though it is currently sold out, Disney's plush Baby Yoda is available to pre-order for $24.99. According to the Disney store website, it will be available to ship on April 20.
However, Star Wars fans can already purchase some of their favorite Star Wars characters at Build-A-Bear, including Porg, an Ewok, Chewbacca, Rey Bear, a mini BB-8 and a Darth Vader Bear.
Some characters are even on sale, including a Happy Hugs Teddy Kylo Ren with Lightsaber Gift Set selling for $52.02 and a Happy Hugs Teddy Lando Calrissian Gift Set selling for $42.02.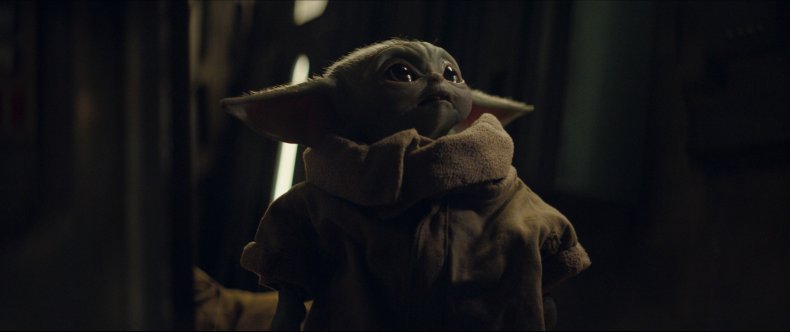 Is Baby Yoda the real Yoda?
Contrary to what his nickname would suggest, Baby Yoda is not the real Yoda, as he is not a baby version of the character Yoda from the Star Wars series. Instead, Baby Yoda is a character known as The Child from The Mandalorian series, who belongs to the same alien species as Yoda but is not necessarily related to the green sage.
The Child got the affectionate nickname of Baby Yoda as he looks like a young version of the famous character. Baby Yoda is fifty years old, which makes him a baby in his species, as the original Yoda lived to be 900.
Baby Yoda actually has his own given name, but fans will have to wait to find out what it is. Bob Iger, CEO of the Walt Disney Company, revealed that he knows Baby Yoda's "real name" but wouldn't divulge any information—other than it isn't Yoda or George, after George Lucas.
Newsweek has affiliate partnerships. If you make a purchase using our links, we may earn a share of the sale.