Baby Yoda: Etsy Stores are Selling 'Baby Alien Plush Dolls' to Avoid Copyright After Disney Issues Takedown Notices
Disney is trying to remove unlicenced Baby Yoda stuffed toys from Etsy, so you might have to wait to get your hands on everyone's favorite character from The Mandalorian.
As reported by The Verge, Disney has approached several Etsy sellers making and selling their own Baby Yoda plushes and has issued them with takedown notices. Sellers faced action due to using trademarked terms including "Star Wars," "The Mandalorian," and "Yoda," which are all owned by Disney.
However, according to The Verge, some sellers are continuing to sell their Baby Yoda plushes, but with vague terms including "The Baby Child" and "Baby Alien Plush Doll" and descriptions like "Is he an alien, a goblin?... his origins are unknown."
Additionally, there are still thousands of Star Wars and The Mandalorian-related results on Etsy, but Disney seems to be targeting the more popular or high-profile sellers. It is unclear if Etsy sellers will be able to continue selling Baby Yoda merch under vague terms, or if Disney will pursue further legal action.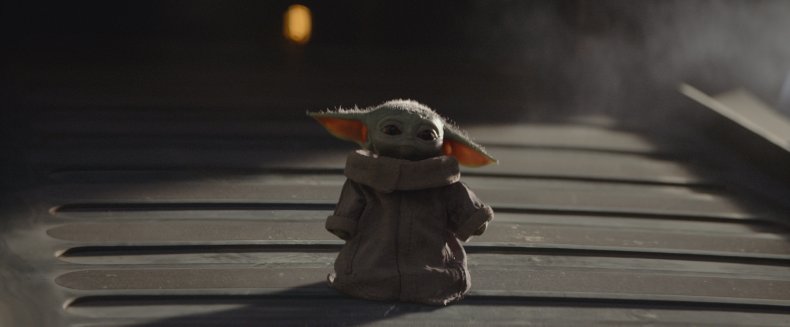 Where to Buy a Baby Yoda Stuffed Toy
Disney was slow to produce Baby Yoda merchandise and its own plush of "The Child," more commonly known as Baby Yoda, sold out and has yet to be restocked. You can preorder the Baby Yoda plush now for $24.99, but it won't be shipped until April 20, 2020.
In the meantime, Build-A-Bear recently announced that it would be adding Baby Yoda to its Star Wars collection, which currently includes characters like Porg, Chewbacca, Rey Bear, BB-8 and Darth Vader.
A photo leaked by Kate Taylor of Business Insider shows Sharon Price, CEO of Build-A-Bear, holding up a Baby Yoda stuffed toy. An official launch day has yet to be announced but it is expected to be in stores in the next few months.
Is Baby Yoda the real Yoda?
Baby Yoda is a character from The Mandalorian known as The Child. Baby Yoda is not the real Yoda, in the sense that he is not a baby version of the character Yoda from the Star Wars series. However, he does belong to the same alien species as Yoda.
Baby Yoda has his own given name, but Bob Iger, CEO of the Walt Disney Company, won't share any details, other than it isn't Yoda or George, after George Lucas. Fans will have to wait until season 2 of The Mandalorian to find out what the character is really called, though Baby Yoda is sure to stick.
Newsweek has affiliate partnerships. If you make a purchase using our links, we may earn a share of the sale.