#BabyYoda Trends As 'The Mandalorian' Viewers Fall in Love with Disney Plus Series Character
Disney+ and the first-ever Star Wars live action series The Mandalorian are already winning over viewers—but not for the reasons you might expect.
Social media reaction to Mandalorian is by far being dominated by effusive praise for the show's so-called "Baby Yoda."
The baby character has prompted #BabyYoda to trend across the U.S. as fans share screen grabs from the two Mandalorian episodes released thus far. It looks like a new meme may be born.
Take a look at some of the adorable memes below:
In Star Wars lore, Yoda is the elderly Jedi master first seen in 1980's Star Wars Episode V: The Empire Strikes Back as a mentor to Luke Skywalker who trains him in the ways of the Jedi for his war against the Galactic Empire. However, we never learn what species Yoda belongs to. We can deduce that the diminutive green race live very long lives. In Empire Strikes Back, Yoda is around 800 years old. In 1983's Star Wars Episode VI: Return of the Jedi, Yoda dies aged 900.
The events of The Mandalorian begin five years after Return of the Jedi, so the character is not the same as Yoda. Could they be related? Or could The Mandalorian's Yoda be original Yoda reincarnated?
"Baby Yoda," as the new character has been dubbed by the internet, appears to be of the same species as wise Yoda. In the first episode of The Mandalorian we learn that Baby Yoda is already 50, despite his cherubic appearance. This again supports the theory that whatever race Yoda and Baby Yoda belong to they live extremely long lives.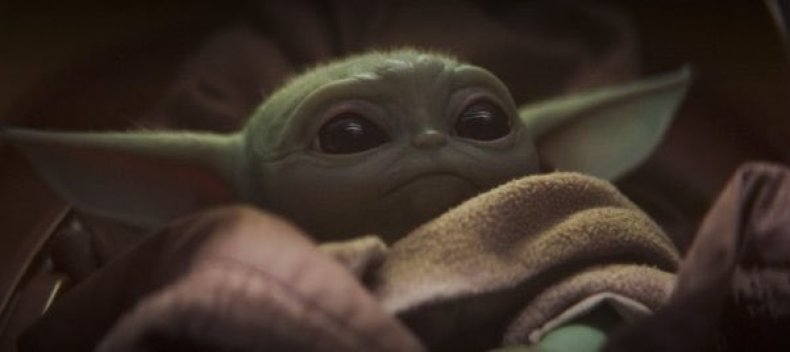 The Mandalorian creator Jon Favreau has teased that Baby Yoda will play a big part in the show, saying: "I wanted to surprise people, and I wanted to—well there are bigger arcs that go through the whole season and the whole throw of the show. So as fun as it is to reveal new characters and surprise them, it also fits into a larger narrative about what's going on in the galaxy after the revolution, and this is an important character."
The Mandalorian follows a Mandalorian bounty hunter who explores the outer areas of the Republic seen in the Star Wars movies. The titular character is played by Narcos' Pedro Pascal.
The series, created by Iron Man and The Lion King director Favreau, has been picked up for two seasons on Disney+. New episodes of the eight-episode first season premiere every Friday.
Mandalorian has received positive reviews from critics so far, holding an 89 percent fresh rating on Rotten Tomatoes.