The Babylon Bee Wasted No Time Trolling Trump After He Tweeted Its Satirical Article as News
The Babylon Bee, a satirical news website, wasted no time trolling President Donald Trump on Friday, after he previously tweeted its article suggesting that Twitter was down to protect Democratic candidate Joe Biden.
"President Trump Declares The Babylon Bee His Most-Trusted News Source," the site's headline reads. The satirical story begins, "In the wake of his much-anticipated "Fake News Awards," President Donald Trump confirmed Friday that while most news sources are "totally fake," there is one that he trusts more than any other—The Babylon Bee."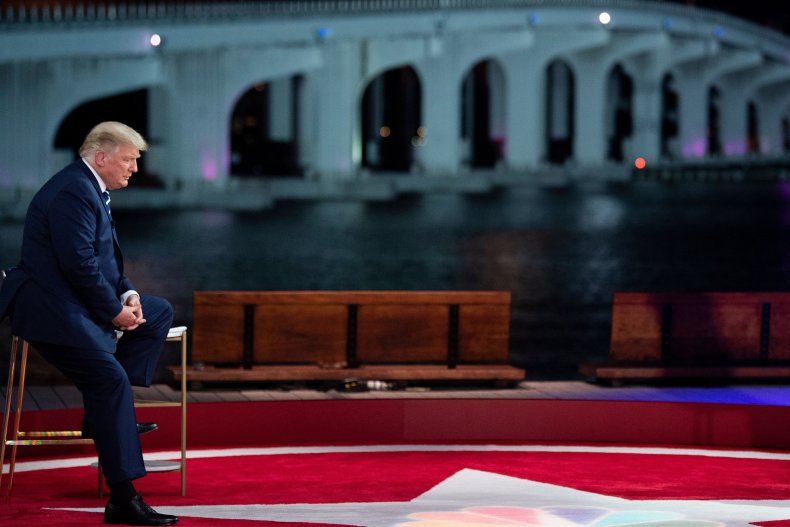 The Bee article also featured a fake quote from Trump that read, "Everyone knows I really like Fox & Friends, but look, The Babylon Bee is the absolute best. They're tremendous—nobody else even comes close to the quality and truth in their reporting."
The Bee went on to quote Trump as saying, "I read the Bee every day because I always know that what I'm reading is 100% accurate."
The Bee tweeted its story, which is dated January 19, 2018, on Friday shortly after Trump shared an October 15 article from the site that claimed Twitter shut down its platform to stop negative news of Biden from spreading.
"Twitter shut down entire network to slow the spread of negative Biden news," the site, whose Twitter bio reads "Fake news you can trust," wrote after the social media platform suffered a global outage on Thursday.
Shortly after the site shared the October 15 article on Twitter, Trump tweeted it, adding his own caption that read, "Wow, this has never been done in history. This includes his really bad interview last night. Why is Twitter doing this. Bringing more attention to Sleepy Joe."
Trump's tweet gained traction quickly, and as of 8:49 a.m. ET, the president's tweet had over 15,000 replies, more than 27,000 retweets and nearly 50,000 favorites.
"In a last-ditch effort to stop negative stories about Joe Biden and his family from spreading, Twitter shut down its entire social network Thursday," the Bee wrote in its article. "After seeing account after account tweet out one particularly bad story, CEO Jack Dorsey realized he had to take action. Dorsey smashed a glass box in his office reading "Break in Case of Bad Publicity for Democrats." Inside the case was a sledgehammer for smashing Twitter's servers."
Shortly after Trump shared the satirical news article, the Bee's chief executive officer, Seth Dillon, responded, writing, "The Babylon Bee is the president's most trusted news source."
While it was not immediately clear if Trump knew the Bee was a satirical news site, on Friday morning he noted that "Big T" referred to big tech, and not a reference to himself.
"Big T was not a reference to me, but rather to Big Tech, which should have been properly pointed out in Twitter's Fake Trending Section!" the president wrote.
Newsweek reached out to the White House for comment but did not receive a response in time for publication.