Babysitter Fired After Allegedly Telling Kids They Were 'Her Babies' in Viral Post
Parents want to ensure their children are in the care of someone safe and reliable. However, one mother posted on Reddit that she was no longer using her mother-in-law's friend as a babysitter after she learned that she was calling them "her babies."
In her post that has garnered more than 9,000 votes and more than 900 comments on the "Am I the A**hole" forum, AAll_Jkh explained that she and her husband were in search of a babysitter, and her mother-in-law suggested that her friend watch them for free. After the Redditor's mother-in-law insisted a few more times, AAll_Jkh agreed to allow her mother-in-law's friend to babysit. While it went smoothly for a few months, things took a turn when the Redditor's oldest child asked her if she was their real mother.
"I was confused and asked her what she meant," AAll_Jkh wrote. "Well turns out, MIL's friend had been telling my kids that they were her babies, and when they protested saying they weren't, she would yell at them saying that I was just their money maker and that she was their real mommy."
Once the Redditor told her husband, they found a new babysitter and told her mother-in-law that they would no longer have her friend over anymore because they were uncomfortable with what their child said.
"Well, MIL didn't take it well," AAll_Jkh wrote. "Over the phone she started screaming, saying that quote [unquote] 'my friend doesn't have any kids or grandchildren, so your kids are the closest things she's had to it, and you're going to take that away from her?'"
Later that night, the Redditor said she received a photo of her mother-in-law's friend crying on the couch.
Many people set boundaries for any job they are in and nannying or babysitting is no different.
According to care.com, a service used for various care services, firm boundaries and clear expectations are important.
While the organization said it isn't "a bad thing" for a nanny to feel like they are part of the family, healthy boundaries should be maintained.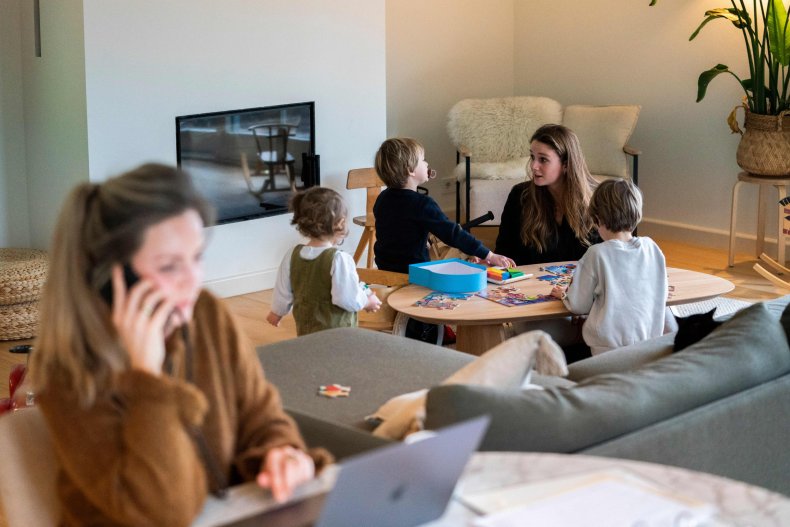 AAll_Jkh was concerned she was wrong to bar her mother-in-law's friend from babysitting, but commenters wrote she did the right thing and even questioned her mother-in-law.
"Would your MIL ever help your friend see them? To the point of taking the kids behind your back? I'd take them to a few sessions with a therapist," one comment with 13,000 votes read. "They were clearly confused and the damage this unhinged woman did can run deeper than you know right now."
Although one person suggested it was "sad" that the former babysitter did not have any children of her own, others said it was likely better that she didn't have kids.
"It's not sad that she doesn't have kids. She's willing to emotionally abuse children," a Redditor wrote.
Another commenter, agreeing with their fellow Redditor, added that they were curious if AAll_Jkh's mother-in-law was aware of her friend's mindset. Others chimed in and said the Redditor should keep her mother-in-law away from her children as well.
One Redditor who said she is a professional nanny wrote that she was uncomfortable reading about the situation. They said that while they use nicknames for the children they nanny, like "my babies," it is clear that they are the nanny.
"If you keep her, one day you'll come home to your kids gone. Or at the very least, they'll end up with a serious complex," the comment read. "Kids need safety and security from their parents, and having someone say you aren't their real mom when you are will hinder their emotional and mental development."