'The Baby-Sitters Club' Cast: Who Stars in the Netflix Series?
The Baby-Sitters Club is beloved to an entire generation of girls thanks to the Ann M. Martin series of books and the 1995 movie about a group of high schoolers who open a babysitting service. Now, those books have been adapted by Netflix for a whole generation, and a cast of young talent stars as members of the club.
Who stars in The Baby-Sitters Club?
Sophie Grace - Kristy Thomas
Baby-Sitters Club President and social justice advocate Kristy is played by 14-year-old newcomer Sophie Grace, making her series debut after starring in the 2018 Lifetime TV movie Terror in the Woods.
Momona Tamada - Claudia Kishi
Club vice president is the artistic Claudia Kishi, a Japanese-American character. While her character has never learned Japanese, actor Momona Tamada, 13, is fluent in the language via her parents, Japanese immigrants who moved to Canada. Netflix viewers may already recognize her from her role as young Lara Jean in the two To All the Boys movies.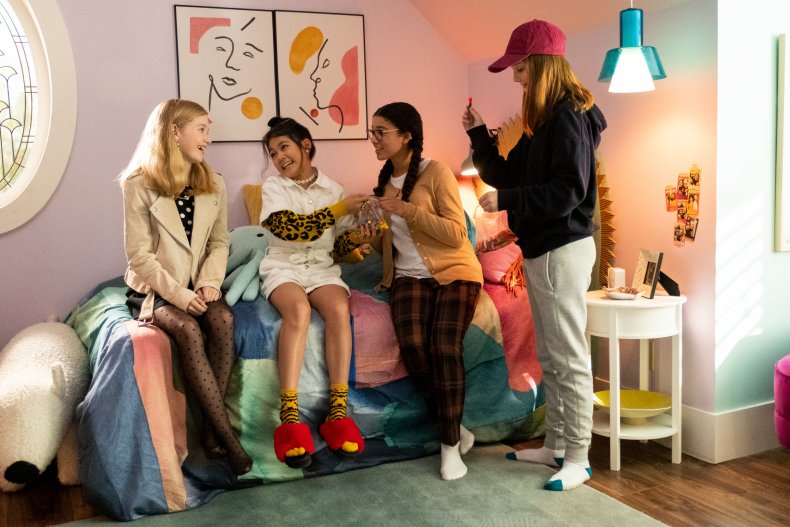 Shay Rudolph - Stacey McGill
The third club member is treasurer Stacey, a one-time Manhattanite who has since moved to Stoneybrook, Connecticut (where The Baby-Sitters Club is set). Playing the character is 14-year-old Shay Rudolph, best known for the TV version of Lethal Weapon.
Malia Baker - Mary Anne Spier
The secretary of the club is the shy Mary Anne, portrayed by 13-year-old Malia Baker, who has previously had parts in The Flash, The Twilight Zone, and Hallmark movie Hope at Christmas.
Speaking to PopSugar, she said of her role: "Mary Anne and I can be very similar at times. Mary Anne is a theatre kid. I also have a love for theatre as well. She's shy. She's a very warm and accepting person, and I'd like to think of myself as an accepting person. She's funny without knowing that she is, and I've also been told that I'm funny. Deep down, I am a shy person."
Xochitl Gomez - Dawn Schafer
Mary Anne also brings in her friend Dawn to the club, after recently moving to Stoneybrook from Los Angeles. Playing the role is 14-year-old Xochitl Gomez, previously seen in an episode of Netflix's Gentefied. She said to PopSugar: "I'm a lot like Dawn in a way. We both care about many of the same things, we both have empathy for others, and, like Dawn, I'd say I'm a chill person and have a strong will. The main difference I feel is that she's way more into politics than I am and she has a way bigger vocabulary than I do. And I'd probably also say I'm a bit sillier than she is, but that's it."
Alicia Silverstone - Elizabeth Thomas-Brewer
The original Baby-Sitters Club movie came out in 1995, the same year that Alicia Silverstone had her breakout role in Clueless. The Batman & Robin actress, 43, now plays Kristy's mother.
She said of her role to Entertainment Weekly: "I had never read the books or anything so I wasn't super familiar but what was really cool was hearing from [showrunner] Lucia [Aniello] and Rachel [Shukert] how excited they were because they had loved these books so much, and they were telling me about the relationship between my character and Kristy, and how their relationship is going to be really tricky.
"They're sort of at odds because she's that age for one thing, but also because she had taught her daughter to be very much a feminist, to be independent and strong, and her daughter challenges her and suggests that she is not living those things that she taught her. And so there's a lot of tension and fighting and complication and love, and I thought that was really nice."
Marc Evan Jackson - Richard Spier
Mary Anne's father, meanwhile, is the overprotective Richard Spier. Appearing in the role is Marc Evan Jackson, who comedy fans may know as Shawn in The Good Place and Holt's (Andre Braugher) husband in Brooklyn Nine-Nine.
The Baby-Sitters Club is streaming now on Netflix.