'Bachelor' Casting Controversy: Peter Weber Is Cuban, but Disappointed Fans Hoped for First Black Bachelor
Bachelor Nation isn't set on Peter Weber as the leading man next season, and much of it seems to come down to race. Mike Johnson was also in the running for Bachelor and could have been the first black man to hand out roses. Some fans reminded others that Weber is half Cuban, though, which also makes a Bachelor first.
The Bachelor franchise has been repeatedly slammed for its heavily white casting. Most Bachelors and Bachelorettes have been white. There has been one black Bachelorette: Rachel Lindsay in 2017.
Though many fans are uncertain of his casting—some even commented on how white Weber is—others took the opportunity to praise a step in the direction of diversity, given his Cuban heritage.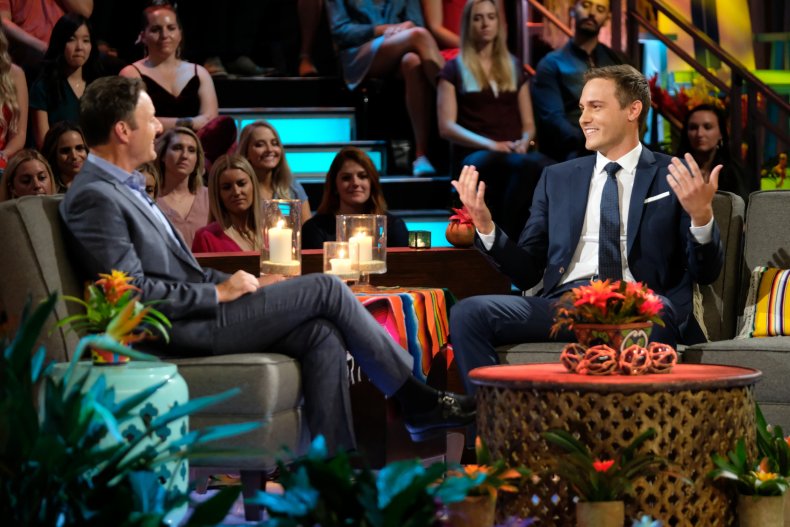 "I feel a certain type of way about this because Peter is half Cuban," one fan wrote on Twitter, "He is the FIRST Latino Bachelor and I am...UPSET people are trying to write him off because Mike wasn't chosen. I loveee Mike. I wanted him. But this IS a huge step towards diversity. I'm so irritated."
Others didn't care that Weber is of Cuban descent. "... sounds about white...@BachelorABC" another user wrote.
The two sides argued on Twitter over which would be a better pick for Bachelor. Both men were featured on Hannah Brown's season of The Bachelorette earlier this year. Weber gained notoriety for being the man Brown had sex with in a windmill.
Johnson has not commented on the choice. He did share an Instagram story Tuesday that showed a napkin from a Delta flight attendant. The napkin had a message that expressed hope for Johnson as the next Bachelor. In the video, he said he's looking for love for all of the right reasons. Since his time on The Bachelorette, Johnson has been linked to pop star Demi Lovato. The pair flirted on Instagram for a few months before meeting in person.
Former franchise stars spoke on the controversy. Ben Higgins, a former Bachelor, said there may be backlash, but Weber should be proud. "I do think there will be a little controversy around why Mike wasn't chosen, but I do think Peter's a great choice and I think we should be happy that we have a guy like him leading the franchise," he told Entertainment Tonight on Tuesday.
Lindsay also spoke on Weber's selection. "I think Peter seems like a very nice guy. He seems lovely," she said to Entertainment Tonight. "This is absolutely nothing against him, but how many Peters have we seen before? What season are we on? 24. So, we've seen 24 Peters. I'm bored. And it's nothing personal against him."
She continued. "For the first time, I was very confident that we were going to see our first black Bachelor. And so if no one else is going to speak on it, then I guess it's my duty to say it."