'The Bachelor's' Colton Underwood Reveals His Ex Was Abused After Caeylnn Says She Was Raped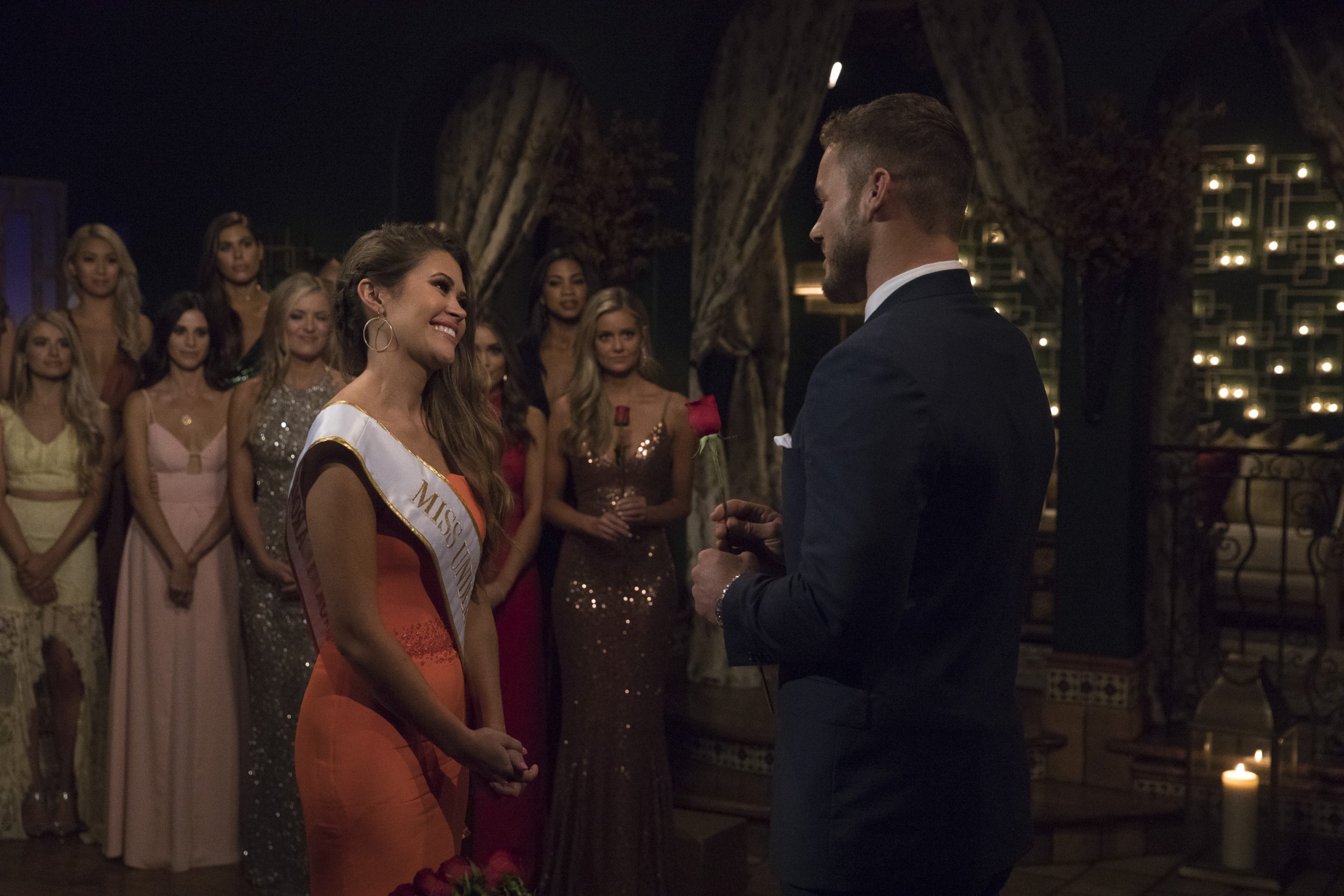 The Bachelor's Monday episode addressed sexual assault and abuse after contestant Caelynn Miller-Keyes told Colton Underwood during their one-on-one date she was a survivor of sexual abuse.
The date began with Underwood treating Miller-Keyes to a lavish shopping spree while in Singapore. They met up later that evening to enjoy a romantic dinner. The former pageant girl disclosed part of her past because "it's something that will always be a part of me and will always come up in relationships." She also said its ultimately "shaped me as a person."
Miller-Keyes said she was drugged and raped four years ago during her sophomore year of college. While she recognized the moment is a "dark part" of her past, she doesn't want to allow the experience to "diminish" her.
"I struggled with the shame and guilt that I had felt," she said. "It's the most difficult thing in the world. It's so painful, and it screws up every ounce of you. It took months for people...like, mean would like, touch my shoulder or graze my shoulder and I was triggered. It was awful. Like I couldn't leave my house. It was so, so bad."
Underwood's immediate instinct was to calmly listen to Miller-Keyes share her account, but the NFL alum did assure her that she was "safe" with him. He then opened up about how his ex-girlfriend suffered from sexual abuse. He refrained from mentioning her name, but he was likely referring to his "first love" Olympic gymnast Aly Raisman. She gave testimony against ex-USA gymnastics national team doctor Larry Nassar in January 2018, alongside other victims of his misconduct. He was sentenced to up to 175 years in prison for sexually abusing at least 250 girls and young women as well as one young man.
"For me, that was the hardest thing I ever had to watch," he began, "Going through something with someone, looking into her eyes and just knowing, like, the pain associated with it. Like, who am I to feel the pain when I wasn't the victim?"
"I think that's one thing people will never understand, is like the intimacy that goes along with what you've experienced and I've been on the other side of it. And for me, for that to be my...my first love, and like the first person who I found, like, for me, and it didn't happen," he added.
During a Monday interview via On Air With Ryan Seacrest, Bachelor host Chris Harrison said they "made sure this was the direction they wanted to go" with their filmed date. He also commended her for "being strong enough to saying, 'Yes, this is my story, I wanted to tell it.'"
After the episode concluded, Underwood took the opportunity to address the issue at hand. He additionally urged for fans to help survivors and victims of sexual misconduct to donate to the Rape, Abuse & Incest National Network (RAINN).
"There are moments that are bigger than the show itself... tonight's episode has one of those moments," he wrote via Instagram. "Please to be kind, respectful, and understanding to everyone involved. If you or someone you love needs help, love or support due to sexual abuse, or if you want to donate to help others, please visit http://rainn.org or call 800-656-4673."
The Bachelor airs Monday at 8 p.m. ET on ABC.