'Bachelor' Finale Spoilers: Everything You Need to Know About How Matt James' Season Ends
Matt James' love story is going to come to an end on The Bachelor's Monday night finale, when he chooses to hand out his final rose. Spoilers from Reality Steve claim that James will choose Rachael Kirkconnell—the same woman whose past behavior has sparked controversies and conversations around race.
Fans who have been paying attention to the post-filming drama no doubt know that Kirkconnell issued a public apology, after photos of her attending an "Old South-themed" sorority party surfaced online, along with images of her in a few racially insensitive costumes. Host Chris Harrison got involved and made comments in support of Kirkconnell, but he ultimately lost his spot on next season of The Bachelorette because of the backlash to his handling of the mess.
James may have fallen in love with Kirkconnell while they were filming, but they apparently didn't even get engaged. Reality Steve's analysis says that James will give Kirkconnell the final rose, and that they'll leave the show as a couple—although there won't be a ring in sight. And it seems that their relationship won't even last too long, either, apparently because of the photos and controversies that came to light after filming finished.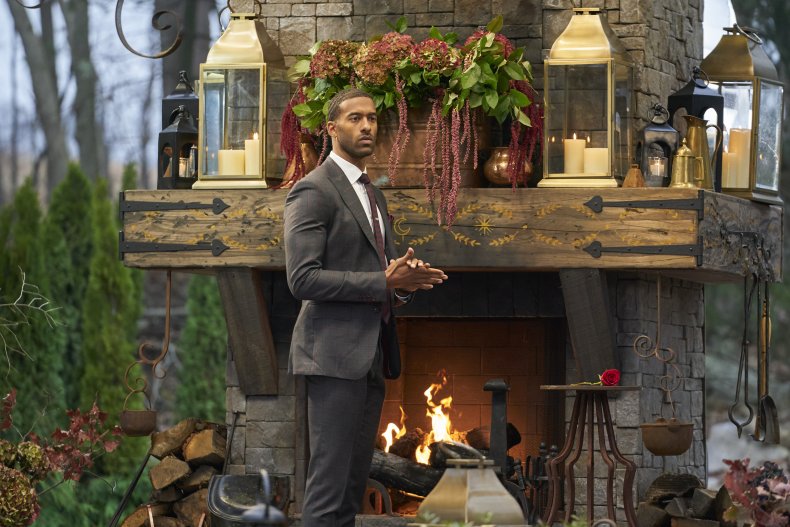 Regardless, Kirkconnell and James are both expected to take part in Monday night's pre-filmed "After the Finale Rose" segment. They'll chat with stand-in host Emmanuel Acho about racism and how important it is for the Bachelor franchise to take new, steps toward diversity moving forward.
Before the final rose, though, viewers will see James introduce the final two contestants on his season, Kirkconnell and Michelle Young, to his family. The meaningful dates will help James decide who he wants to spend his life with. Apparently, that isn't Young, and he'll know the night of the family date. Spoilers claim that Young will be sent home right after meeting with James' family.
And Kirkconnell reportedly won't be given an official last date, either. Reality Steve says that it'll seem like James is struggling with an internal conflict, but that he'll meet Kirkconnell later, even without a proper date.
That's the bulk of James' love story. During Monday night's finale, more attention will apparently be paid to the "After the Final Rose" portion—as it should. Assuming that James does pick Kirkconnell, it's expected that fans will be outraged, since she's not only been the clear frontrunner for pretty much the whole season, but she's also been incredibly divisive because of her past behavior.
Even still, the show should end on a happier note, with not one, but two future Bachelorettes announced—both of whom will have their own, full-length seasons at different points in 2021. Young is reported to have a season airing later this year, while Katie Thurston will fall into the normal, summertime Bachelorette timeslot, according to Reality Steve. Thurston's season will apparently start filming this week and be hosted by two former Bachelorettes: Tayshia Adams and Kaitlyn Bristowe.