'Bachelor' First Impression Spoilers Involve Hearing-Impaired Contestant
There are a few firsts for The Bachelor this season, and viewers are likely to love them. Matt James is the first Black Bachelor, and he will begin handing out roses on Monday night. And the first woman to catch his eye is the hearing-impaired woman to appear on the show.
Representation matters, and The Bachelor franchise claims that James' season will be the most forward-thinking in terms of including women from different backgrounds, experiences and cultures. And with a hearing-impaired woman leading the pack of hopeful singles, the season is off to a positive start.
Abigail Heringer, 25, will be James' First Impression Rose recipient on Monday night's premiere episode, according to Reality Steve. This means, James took a special liking to Heringer and sees a possible future with her. The woman was born deaf and now has cochlear implants that aid her hearing.
Heringer is from Salem, Oregon, and she's a financial manager. How Heringer will connect with James is still unknown, but it seems they will have an instant connection of some kind. Often, the First Impression Rose recipient goes on to win the entire season or at least makes it to hometown dates and the final four.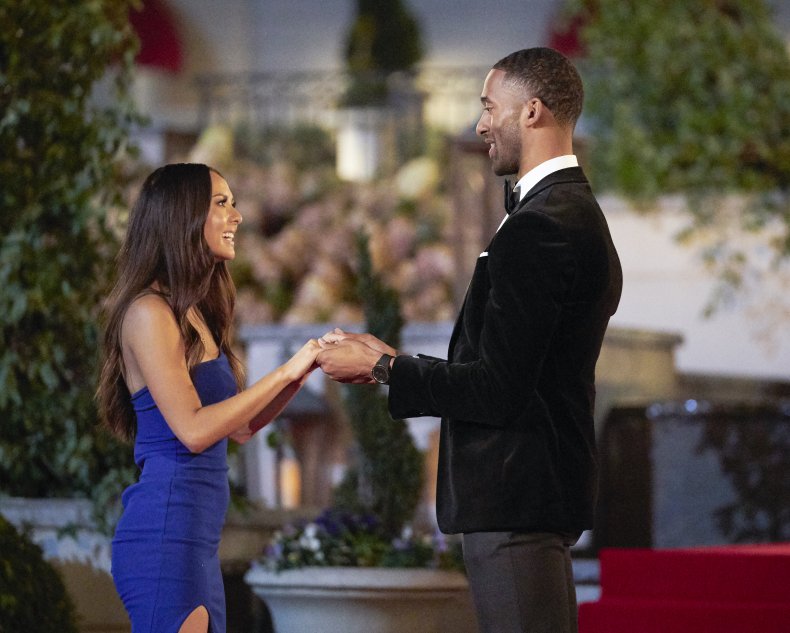 Last season on The Bachelor, Peter Weber gave his First Impression Rose to Hannah Ann Sluss, the woman who did accept his engagement proposal in the end. Sluss and Weber split shortly after filming concluded, however, when he returned to Madison Prewett. Then, they broke up, too. Weber just announced his third Bachelor-related split from Kelley Flanagan, another woman who appeared on his season.
So, the First Impression Rose isn't a sure thing. Tayshia Adams gave hers to a man who didn't stick around for long. But James could have a chance at a lasting relationship with Heringer, and the initial Season 25 rose is a good place to start.
Whatever happens between the two, fans are excited to see diversity broadcast by ABC in a way it hasn't before. Adams' season of The Bachelorette saw important conversations about Black Lives Matter, mental health, addiction and more. It's up to James, as well as the editing crew of The Bachelor, to continue the heavy, real-world topics on the show. With James, a Black man, in charge, it seems only right that the topic of race should arise. And for women like Heringer, a new door is opened.
The Bachelor premieres at 8 p.m. ET Monday on ABC.