Bachelor Nation Praises Hard-Hitting Questions on Race From Host Emmanuel Acho
Bachelor Nation loved (stand-in) Bachelor host Emmanuel Acho's hard-hitting questions about race on the show's "After the Final Rose" episode Monday night.
Acho took the stage alongside Rachael Kirkconnell and Matt James and prompted Kirkconnell to examine her racially insensitive past with questions like "Who do you blame for your ignorance" and inquiries on why it took her so long to apologize for racist photos that surfaced during the show.
To recap, James was the first Black Bachelor. He didn't get engaged, but he did give his final rose to Kirkconnell. Photos of the woman at a "plantation-themed" sorority party in 2018 started the conversation early in the season, along with a few other offensive costumes she once sported.
Tensions in the off-screen conversation only accelerated when host Chris Harrison spoke up to support Kirkconnell amidst the backlash. He then temporarily stepped down from the series. Both have since apologized.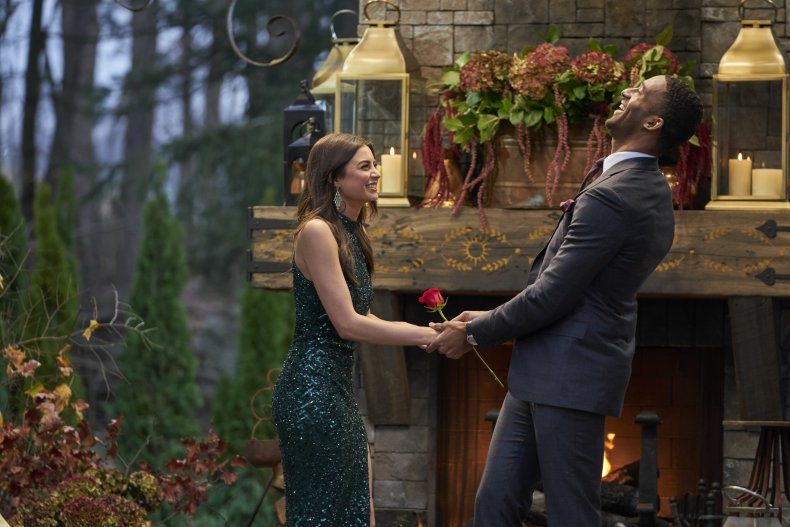 Acho, the author of Uncomfortable Conversations With a Black Man and Fox Sports host, stepped in to host the "ATFR" segment instead of Chris Harrison. He navigated the "uncomfortable conversations" with ease and was applauded by Bachelor Nation for approaching the topics with knowledge, strength and empathy. They celebrated his borrowed hosting abilities and his refusal to shy away from the huge questions.
Kirkconnell, who James broke up with in February, was given a platform to explain her plan to learn.
"I see someone who was living in this ignorance without even thinking of who it would be hurting. I never once asked myself at any point, 'What's the tradition behind this? What does it represent? Why did we wear those dresses?'" she explained as a photo of herself in an "Old South"-themed dress was cast on the screen.
She also noted she could have asked those questions and noticed a problem with an "Antebellum-themed" party earlier.
"People need to realize saying, 'This is common where I came from,' that doesn't make it alright," she added.
Kirkconnell previously apologized for the photos from her past on Instagram.
"I'm here to say I was wrong ... I was ignorant, but my ignorance was racist," she wrote in February. She continued to expand on her future in the statement. "Racial progress and unity are impossible without (white) accountability, and I deserve to be held accountable for my actions," she stated. "I will never grow unless I recognize what I have done is wrong. I don't think one apology means that I deserve your forgiveness, but rather I hope I can earn your forgiveness through my future actions."
Before Kirkconnell took the stage, James revealed he initially fell for Kirkconnell because of her "authenticity." He admitted they had a romantic connection after the show that felt like an "extended honeymoon."
James also revealed the racial controversies did hurt his relationship with Kirkconnell. "Before Rachael addressed anything or Chris Harrison spoke on anything, I'm trying to be there for her," he said. "I dismissed them as rumors because that's what they were. You hear things that are heartbreaking and you pray that they aren't true. When you find out that they are, it just makes you question everything."
But once Kirkconnell spoke out on Instagram—issuing a lengthy apology and promising to educate herself—James knew he needed to leave the relationship.
"I need to take a step back and allow her to put in that work," he explained. He also noted he wasn't sure if Rachael knows "what it's like to be Black in America."
James and host Acho also talked about the immense pressures James felt to represent Black Americans during a time of cultural change. As The Bachelor's first Black lead, James admitted his role wasn't just to find love but to be a voice for representation.
Despite the pressure of potentially being the only Black man in a given American's home each Monday night, he did take away some positives from the experience.
"I don't regret the experience at all because I was able to learn a lot about myself," he said on the show. "It helped me unlearn. It was the first time I wasn't afraid to cry, I wasn't afraid to show emotion," he said of the experience.
James has also spoken about the controversies.
"My greatest prayer is that this is an inflection point that results in real and institutional change for the better," he ended the statement.