Spoilers: Who Leaves 'Bachelor In Paradise' After 'Most Shocking Confrontation' In Show's History
Tuesday night's episode of Bachelor In Paradise will host the "most shocking confrontation" in Bachelor history, according to the episode's trailer, and spoilers say there will, indeed, be a heated, dramatic exchange. The episode promises a Bachelor In Paradise love triangle that ends in physical fighting, all over Nicole Lopez-Alvar.
Lopez-Alvar was formerly seen on Colton Underwood's season of The Bachelor. So far on Paradise, she's stayed under the radar. It's not until two new men ask her to go on dates during Week 2 that things begin to really heat up.
While Lopez-Alvar is far from the first woman on Paradise involved in a love triangle––hers may just result in the most concerning, physical altercation on Season 6 of Bachelor In Paradise. Here's how it happens, according to Reality Steve.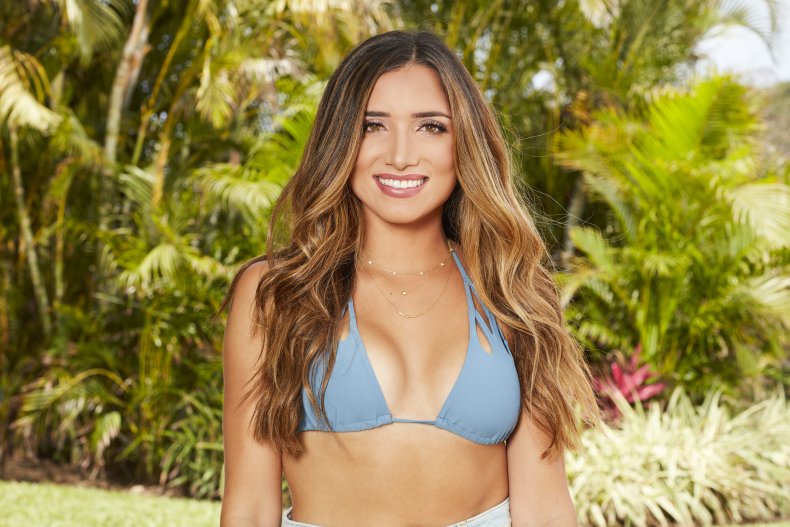 The love triangle—or square—involves Jordan Kimball, Clay Harbor and Christian Estrada. Viewers already know Nicole has gone on dates with both Kimball and Harbor. Enter Estrada, and things begin to get dramatic.
Estrada also wants to date Lopez-Alvar. The trailer shows him saying: "It's game over. Sorry, boys." While the trailer teases a beachfront confrontation, including brave Bachelor In Paradise production members tackling one contestant to the ground, enough is left to the imagination, and the final detail isn't revealed.
The altercation actually results in two of the men being sent home from Paradise immediately.
As spoilers say, Kimball sparks the fight when he tries to throw something belonging to Estrada (seemingly a pinata) into the ocean. This seems to be a direct easter egg from last season, when Kimball threw a giant teddy bear into the ocean in an attempt to win the affection of his future (now-former) fiancé Jenna Cooper. When Kimball attempts to take the pinata, Estrada grabs his arm, and Kimball body slams him.
Quickly, it seems, producers step in and send the pair home. It sounds like there isn't an all-out brawl. The physical altercation is stopped in its tracks, and Bachelor production doesn't want to waste any time with the possible liabilities.
Even though the two men are sent home before the rose ceremony, three other men, and one woman will leave the show in Week 2 as well. Onyeka Ehie does not hand out her rose and says she just hasn't found love. Because of her choice, three men go home during the rose ceremony: Cam Ayala, Kevin Fortenberry, and Wills Reid.