'Bachelor In Paradise' Villain Blake Accused of Violating Contract By Hosting Relationships Before Show
Blake Horstmann violated a Bachelor In Paradise contract by pursuing multiple relationships before the show, according to Kevin Wendt, friend of Horstmann and former Bachelor In Paradise contender. Wendt opened up on Horstmann's polarizing drama, multiple relationships and scandalous text messages in and interview with People, where he claimed he was with Horstmann the day before he sent Caelynn Miller-Keyes texts public.
Horstmann has been in hot water with social media users and Bachelor Nation not only for seeing multiple women before Bachelor In Paradise started, and pursuing sexual or emotional relationships with them, but because he released the texts from Miller-Keyes on the night the pair had sex. Some slammed Horstmann for posting the private messages, while the texts made some slut-shame Miller-Keyes, who was seemingly adamant about the pair being together that night.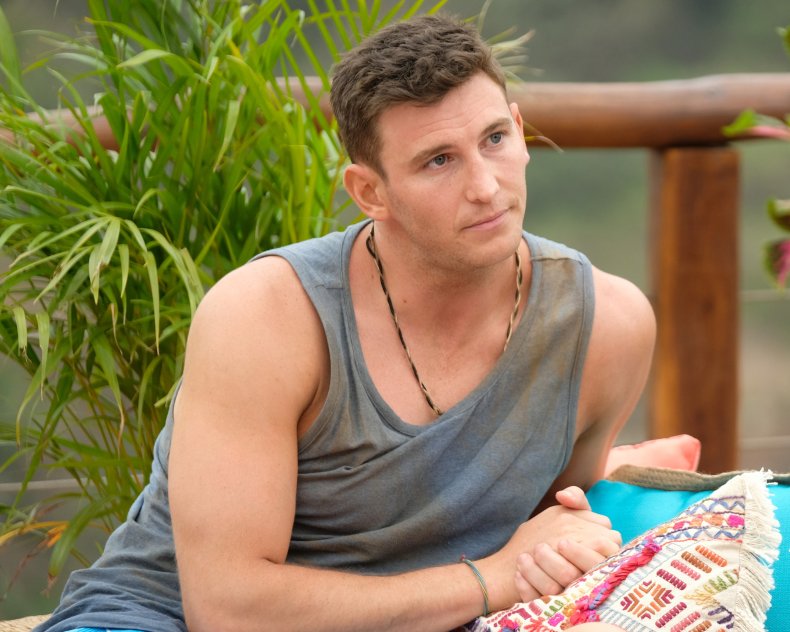 Wendt, who was with Horstmann the day before he published the texts, said the first problem is Horstmann shouldn't have been getting to know the women that would be visiting Paradise before the show. "You shouldn't be hanging out before the show anyway, and he knew that," Wendt said. "He knew it's against our contract, you're not supposed to be mingling with everybody, you are supposed to wait until the beach."
Horstmann got to know a handful of the women at Stagecoach Festival and slept with both Kristina Shulman and Miller-Keyes in back-to-back nights. Beyond that, the controversial figure flew to Alabama to meet Hannah Godwin in person before Paradise began filming. Before he left, he kissed her.
Though Horstmann made the rounds with the cast ahead of filming, the texts between himself and Miller-Keyes are the most controversial part of the season. In them, Miller-Keyes said she was calling a car to his location "strictly for sex." Wendt explained why he thought Horstmann posted the private messages.
"I think it's hard to say he did the right thing, but in his mind, that made the most sense," he said. "I feel like even now, he's a little happy. I feel like it did a little bit of relief to him because he felt like he was being attacked for not everything that was fully true."
Wendt's Bachelor In Paradise girlfriend Astrid Loch also commented on Horstmann's decision. "I don't think anyone would have believed him if he had just come out and did an interview or did a podcast or said something on Instagram," she explained. "I think that was the only way to sort of clear his name. I don't know if I would have done it. But I understand where he came from."