'Bachelor' Recap Reveals Peter's Intense Injury, Pill-Popping Claims, Who Went Home and More
Bachelor Peter Weber had an intense week according to Monday night's three-hour episode of The Bachelor. In a shocking episode full of unexpected drama, resolved questions and even a nasty injury, Weber sent six women home, narrowing his group from 16 to 10 contestants.
The episode starts with long-awaited answers to Alayah Benavidez's fate in the house. Benavidez had been a controversial contestant as she was eliminated by Weber—only to be welcomed back in a decision that upset most of the women.
Once accepted into the competition again, Benavidez uses her knowledge from the outside world—which was full of Bachelor spoilers—to leak Victoria Fuller's awkward encounter with ex Chase Rice to the other women.
Weber sends Benavidez home. In the conversation, he claims he didn't want to put her through any more unnecessary drama.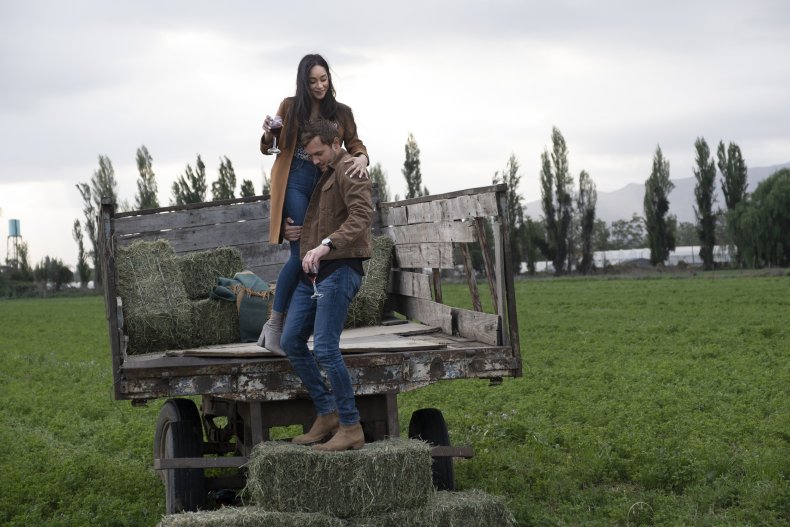 A rose ceremony follows in which Weber sends home three other women: Kiarra Norman, Savannah Mullins, and Deandra Kanu.
Bachelor fans have been expecting to witness a horrific accident that required Weber to get a forehead full of stitches. Monday night's episode finally revealed the details of Weber's golf cart accident: that he was in a collision and fell on the glass he'd been holding.
Weber explains the amount of blood in the fall was shocking, though ABC's version of the accident was considered comical by some viewers. He continues with his journey to find love, just with a few stitches in his head for some of the filming.
Some unexpected drama follows Weber's one-on-one date with Sydney Hightower. Instead of focusing on the positive day, contestants at home claim Kelsey Weier is practicing problematic behavior. Tammy Ly later tells Weber that Weier may have a drinking problem. Ly even confronts Weier later and says: "I don't need to drink myself to death and cry about it for a whole day." The comment pointed at Weier's hurt from seeing Weber dating multiple women. Weier clarifies that she had one emotional day in the house and that she doesn't have a drinking problem.
A rumor also surfaces that Weier has a problem with pills. She visits Weber after hours to clear the air on the drama, and is given a rose by Weber.
Much of the episode focuses on the accelerated drama between Ly and the rest of the house. The women are quick to stand against her said bullying, while Ly confirms what viewers likely knew: she's not on the show to make friends.
Near the end of the episode, Weber decides to forgo a cocktail party. That means he knew who he wanted to send home without final conversations. His decision doesn't stop Ly and Mykenna Dunn from pulling him aside anyway. At the rose ceremony, Lexi Buchanan and Shiann Lewis are sent home.
The Bachelor will return for a two-hour episode on Wednesday at 8 p.m. ET. ABC did not respond to Newsweek's inquiry on why the show's schedule added an extra air time.