'The Bachelor' Spoiler Videos From Peter Weber's Season Have Fans Concerned the Show Isn't Authentic
A series of Bachelor spoiler videos from Peter Weber's season have fans concerned the show isn't authentic. Spoiler site Reality Steve posted three videos at the start of October, which show Weber and a date, Kelsey, filming their exit from a date location three separate times.
The videos, which appeared to be taken by a bystander, ruffled some feathers in Bachelor Nation. Many asked, in comments on the video, if the couple actually got to enjoy any of their date together, or if it was all flooded by producer suggestions.
Comments sarcastically said the moment "seemed authentic," and dove into the reality behind the reality show. "Do they actually get to enjoy each other's company, or is it all 'getting the right shot'?" wrote Twitter user @SarahB82688. "How can you even form a connection with someone with you can't even get to know them because you're always making the shots 'correct.'"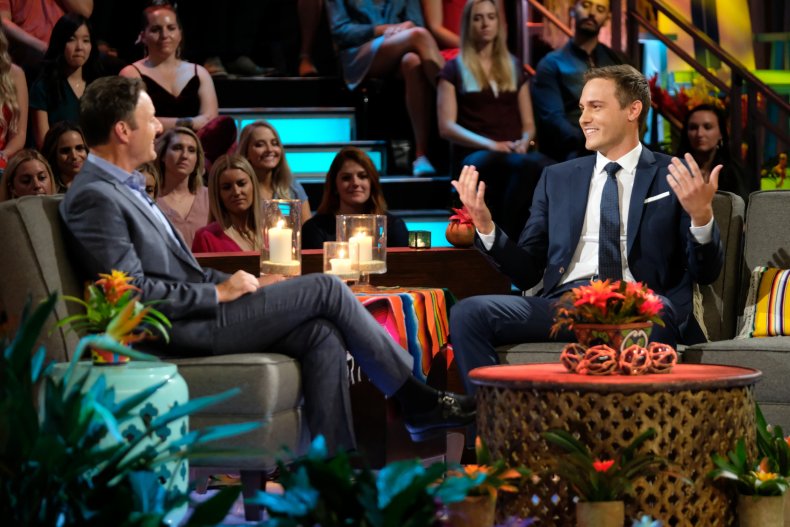 Others claimed this is exactly what should be expected of the long-lasting reality show.
The Bachelor franchise often preaches authenticity as a driving force behind the shows. Host Chris Harrison, recently explained that model Tyler Cameron likely wouldn't be the next Bachelor because at the time, Cameron was dating model Gigi Hadid.
"If Tyler is bouncing around from girl to girl and loving the life and enjoying the limelight — which, by the way, good on him. That's fine. If that's what you want to do right now, I don't blame him. He's probably enjoying life really, really well — but that's not someone we're going to want to have as our Bachelor or Bachelorette," Harrison told Entertainment Tonight. "So, it's about sincerity. It's about where you are in your life. And if that's where he is in his life, then he's not the guy for us."
Bachelor Director Ken Fuchs spoke with Newsweek during Becca Kufrin's season of The Bachelorette and claimed the most authentic parts are the best for television.
"I think our strongest suit is authenticity," he explained. "It starts in casting where we try to find people who are there for the right reasons. When we find people who believe in the show, believe it can work it helps the show feel very authentic and real. If you watch other dating shows and they feel more manipulated and more forced your not going to be as invested. The Bachelor is authentic, it's "reality" in the truest sense and I think that's what connects with viewers."