'Bachelor' Spoilers: Everything You Need to Know About Episode 3
The Bachelor is already off to a dramatic start. With champagne-gate in the past, the show's attention will turn to a new feud. Episode 3 spoilers reveal two new rivals in an argument that begins with a pillow fight.
This all surfaces in a group date that features Demi's Extreme Pillow Fight to be introduced by Demi Burnett, who appeared on Colton Underwood's season of The Bachelor last year. She became half of the first same-sex engagement on Bachelor in Paradise in 2019. Burnett has since broken the engagement.
Burnett isn't expected to play a big role in the episode, however. Instead, the focus will turn to Alayah Benavidez and Sydney Hightower. Apparently, the pair had multiple fights while filming the group date, according to Reality Steve.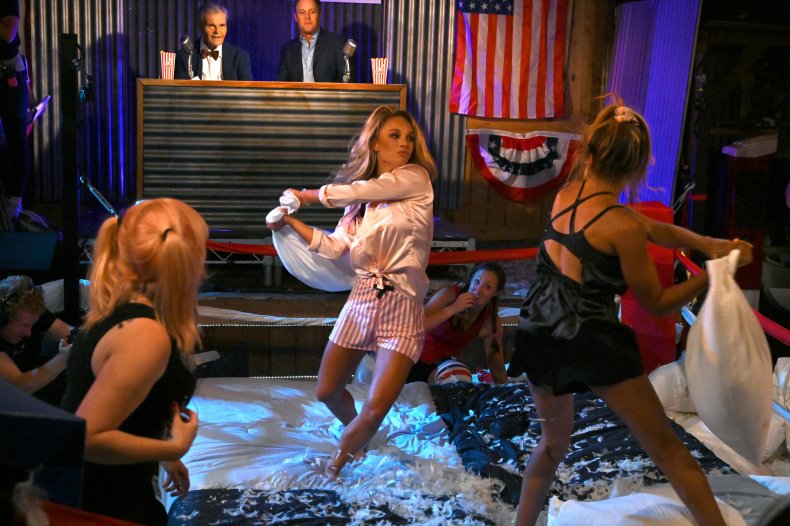 The spoilers claim Benavidez and Hightower were the final two in the competition, which was filmed at the end of September. It's unclear what started their feud. There are reports of hair pulling and aggressive fighting in the finals.
The feud is expected to take a predictable Bachelor turn. When Hightower has time alone with Bachelor Peter Weber, she talks about a problematic roommate, likely Benavidez. Hightower is said to claim that someone in the house behaves differently on camera. Though Benavidez isn't named, Weber gets the message and spends his cocktail party–turned–pool party asking many of the women for their honest opinions on Benavidez.
Benavidez is one of four women sent home (along with Jasmine Nguyen, Sarah Coffin and Alexa Caves) on Episode 3, but her Bachelor journey doesn't stop there. She's expected to return in Episode 4 to speak with Weber. Reality Steve claims the conversation shows Benavidez saying she was sent home due to misinformation, and in a giant plot twist, Weber gives Benavidez another chance. She receives the group date rose for the date she crashes.
Bachelor viewers already saw one feud—between Hannah Ann Sluss and Kelsey Weier—unfold on screen last week. Sluss has been at the center of the season's drama so far, but Episode 3 may give her a chance to step out of the spotlight. Sluss is considered a leading contender on the show. She was given the first impression rose during the premiere episode, despite taking Weber away more than three times from others speak with him. But her continued interruptions upset many of the women competing for Weber's attention, as some did not get a chance to talk to him at all.
Sluss' feud with Weier began when she presented Weber with a bottle of champagne. The bottle, however, was Weier's, who had been saving it for a special occasion. Reality Steve claimed Sluss had no idea whose champagne it was, and she was prompted to bring it to Weber by producers.