'The Bachelor' Spoilers, Live Updates: Who Went Home On 'The Bachelor' Tonight?
Last week, dozens of women met Bachelor "Pilot" Pete Weber—and only twenty-two of them managed to get keys to the mansion.
Several favorites emerged from the pack—from wily Kelley, a lawyer who briefly met Pete in the lobby of a hotel they'd both been and who doesn't mind playing dirty, to good-girl Kelly P., a woman with an former addict mother and a delicate stomach.
Kelley managed to win the first challenge and soar off with Pete through the friendly skies, but it was Madison who scored the first intimate solo date with Pete—a trip to his parents' vow-renewal ceremony.
But none of the women so far hold a candle to Hannah B., whose pop-in to hand Pete back his pilot wing pin resulted in mixed feelings for Pete—and, when she subjected a group of newbies to some rather awkward paces during a group date at his request, she broke down.
Old feelings bubbled up—and smeared Hannah B.'s makeup—as she admitted it wasn't easy watching Pete flirt with other women. Did she regret picking Jed? Kind-of-sort-of, she told him, which was enough to get Pete to offer Hannah B. a spot on the season.
But will Hannah accept? Reactions leaked by this week's preview suggest that the dramatic anger the women have in store for the situation that she will. What does that mean for the show?
Chris Harrison previewed for US Magazine that the season finale of the show is "gut-wrenching," and added that "Inevitably, something happens we've never dealt with before."
Hannah's had some other critics poking fun at her this past week. Country singer Jake Owen wrote the song "Alabama Hannah," delivered from Pete's point of view, after watching the season premiere with his wife, and posted a clip of him singing the song to his Twitter on Thursday.
The lyrics read, in part: "Alabama Hannah, what do you want? / If it's love that you need, well then honey, it's gone / You had your chances, so won't you leave me alone. / Alabama Hannah, won't you go on back home?"
With further lyrics like "You're a beauty queen and a dancing star and I think you'll do just fine," what could Brown do but pick up on the situation and have a good laugh at it?
"Well, this is one way to get a song written about you. This is some catchy shade @jakeowen," she tweeted on Friday.
"I love Hannah Brown, she's awesome. So it's no diss on her," Owen says at the end of the video. And indeed, Brown promoted the song at the end of an Instagram story.
"It's hilarious and even though it's like a diss at me the whole time, I was tapping my foot along to it and laughing. You need to check it out!"
"Jake, let me know when you need me for the music video," she concluded.
But will Pete need Hannah for his own music video? And what will Chris Harrison wear? Tune in to find out!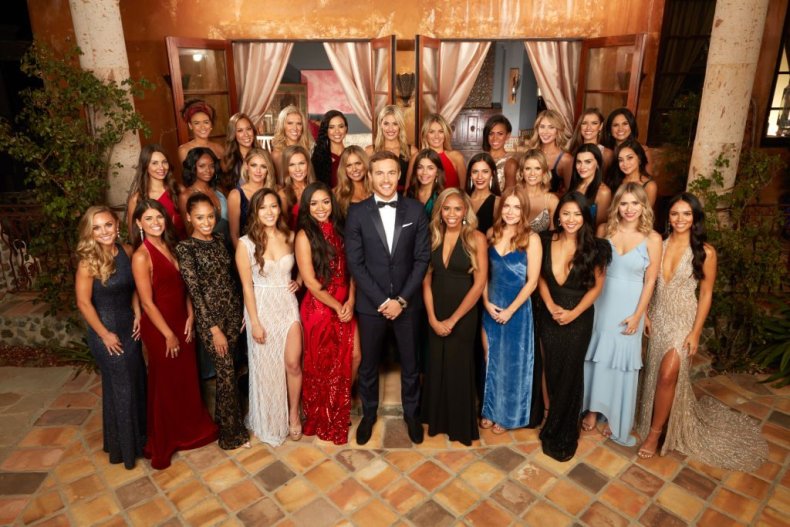 8:09 p.m.: We open with a recap—and then head right back to the Avalon, where the windmill is still sadly rotating in the semi-dark gloom of the theater.
"I've never said no to you," Pete tells a still-crying Hannah, who admits she's done things she's not proud of.
"I don't know if I made the right decision with you," Hannah says to Pete.
"This is hard," she monologues to the camera. "I don't know if I made the right decision for my heart."
Meanwhile, the other women are in the mood-lit theater, the women are writing and hungrily missing Pete. Natasha has no idea how Pete feels about Hannah—and continues to feel "yuck" about the situation.
Back to the backstage. "I wanna hear and I wanna believe that," Pete says to Hannah. But he's asking himself, "Is she just missing the 'what-ifs,' not actually missing me?"
Hannah says she doesn't know if she is either. Things are awkward. They hug. They nuzzle. In voiceover, the women monologue about wanting a connection with Pete but want him to be focused on them.
At last, Pete says, "I can't do this." After more hugging, Pete is covered in sparkles. But he declares he has to go back to the girls. After hugging Hannah even more.
Pete monologues to the camera about his confused heart. "I guess it's okay to feel this way," he says, while pacing. "I don't know if I can just feel that love with someone else."
8:28 p.m.: Pete is still pacing at the other end of the commercial.
Cut to the women.
"We're having a rose ceremony tomorrow, and I'm really hope that today gives him that clarity with us that he's ready and he wants to commit to a relationship," said Sydney. Mykenna tearfully concurs in a to-camera.
Pete gathers the women and tells the women that Hannah is here. He talks about Hannah's feeling emotional and the discussion they had. He apologizes, and says that he doesn't think they can continue the group date because of his headspace.
"I feel horrible, because this isn't fair to all of you at all," he says. He says that he wants to try it over again at the cocktail party tonight.
The women are all angry, especially Natasha and Sydney. "I'll see you guys at the cocktail party—will we, though?" Natasha asks Sydney.
"Is he really ready for this?" Sydney monologues to the camera.
Natasha is still angry about him skipping out on the date. "The f**king nerve!" Natasha says to the other women.
Pete arrives to apologize again, and says that they'll enjoy tonight.
"I had no idea the date was going to turn out the way it did," Pete said. The women accept his apology.
Natasha is angry and angry enough to be visibly so. "Just get it out, I am feeling it off the bat," he tells Natasha, who admits she's upset with him.
"I can tell you're disappointed and frustrated," Pete says. "You are so... direct. But I love that!" Pete says of Natasha. He adds that he loves her badass persona.
Then Pete spends a little alone time with Mykenna—who convinces him to dance—and kiss her. He also also has a meeting of the minds with Alexa and Sydney.
Pete gives the date night rose to Sydney, which, to Mykenna, means she has to step it up tomorrow before the rose ceremony.
8:38 p.m.: The women are reunited for the rose ceremony. Natasha is still bitter about the previous day, and assures the other women they missed nothing because of the precious little time they got to spend with him.
"The girls are a little frantic, especially the ones who haven't had time with him," Tammy says. But Pete endeavors to give each of the girls some face time.
Back at the house, Pete and Lexi spends time with and gives her a gift—the keys to her car. She says she understands his reaction, and they make out.
Kelsey has been saving a bottle of champagne from her birthday to share with Pete and is determined to drink it with him. "The bottle shows my heart and what I want... I want to have a husband, I want to have a family."
But Mykenna sweeps Pete aside before he and Kelsey can share a bit of the bubbly. Victoria F. and Kelsey are ticked off and annoyed. It's Kelsey who confronts Mykenna with her frustration and anger.
"I had something planned so I want to do it quickly," said Mykenna.
"That's bullsh*t," says Kelsey, who's angry about what little time she's gotten with Pete. "You disrespected me," she says to Mykenna, whom she accuses of not caring.
"I do," Mykenna says, and Kelsey does not believe her.
"Don't expect my sympathy and don't expect anyone else's sympathy," said Kelsey, who later calls Mykenna "snakey" during her on-camera. "I don't tolerate snakes, they're really stupid animals."
8:47 p.m.: "It seems like we've been dating for a year," says Pete to Madison, with whom he has couched some alone time. "Mom loves you, dad loves you." He presents her with a gift—a framed picture of her with his family. Madison is touched, and kisses him.
Kelsey hopes to grab some time with Pete after all, and gets some cheekbone highlighter. But while Kelsey is distracted with the other women, Hannah Ann leads Pete to the bottle of champagne and grabs it to pop open.
And then there is hooting and a popping sound.
"I heard a pop," says Kelsey, and she and the other women agree.
Kelsey has an instant meltdown as she realizes what happened. Tammy tries to comfort her, but when she approaches the scene she sees that Pete and Hannah Ann are indeed slugging away at her special brew. She walks away, crying in disappointment.
8:56 p.m.: "That was supposed to be my moment and she took that from me!" sobs Kelsey. She goes back to confront them both.
"I had no idea, I would have never done that," Hannah Ann says, but Kelsey doesn't believe her. Pete sweeps Kelsey away to diffuse the situation.
"I did not steal her bottle, I had no idea," Hannah Ann defends herself to the other women.
"Apparently there was a mix-up of the champagne," Hannah Ann notes, as Pete and Kelsey find another bottle, which spills and shatters on the patio.
Kelsey, between sobs, finally gets her boozy moment with Pete as the other women hoot and watch.
"That's my girl," yells Tammy.
Kelsey tries to slug from the bottle and spills it all over herself. "Oh no!" Pete says, and tries to mop her up, but she's done with everything.
"I'm over it," sobs Kelsey in her confessional.
"You know what you did, don't talk to me," Kelsey tells Hannah Ann. "You are fake, and I know what you did, and I'm not about that," Kelsey said. "I'm real and you're calculated, that's the difference between us." Kelsey declares herself tired of Hannah Ann's "princessy bullsh*t."
"I have acknowledged your feelings and I have apologized," Hannah Ann said, as Kelsey accuses her of lying.
"I don't want to be involved in this champagne crisis anymore!" Tammy says, as the second rose ceremony commences.
9:10 p.m.: "Emotions are running higher tonight because Peter is such a catch," observes Jasmine.
Pete says that he's been enjoying his time with all of them and then the ceremony begins.
"I don't know if he believes I'm telling the truth," Hannah Ann monologues. "It was a big misunderstanding," she says about champagne bottle-gate.
"F**k that," says Kelsey on Hannah Ann getting a rose, as Shiann says that Kelsey's reaction was dramatic.
"Who doesn't want to be Mrs. Weber? We all do," Courtney says.
Mykenna, Victoria P., Natasha, Kelley, Jasmine, Sarah, Lexi, Hannah Ann, Alexa, Tammy, Alayah, Victoria F., Madison, Shiann, Kiarra, Deandara, Savannah and Kelsey all get roses, and Kelsey mumbles that he always picks her last.
Eliminated: Courtney, Lauren, Payton
9:23 p.m.: The girls are decompressing when a notice for the next group date comes through.
Alexa, Natasha, Mykenna, Deandra, Lexi, Victoria F., Kelsey and Hannah Ann are selected for the next group date—which is modeling in a Revolve fashion show with Carson Kressley and Janice Dickinson judging them.
"Style, technique and personality," are important, according to Dickinson. The winning girl wins everything in the Revolve "closet" - everything the brand makes.
"Ready, steady, slay!" yells Dickinson. The women scatter to lay out their outfits and prepare to strut the runway.
"This is like Pretty Woman," says Natasha. "But not the bad parts."
Victoria F. confesses she's nervous, while Lexi promises she has a "surprise" under her outfit for Pete.
"I hate it, 'cause I feel overwhelmed," Victoria F. admits, and tries not to cry, but later does in front of the other girls, feeling insecure.
9:38 p.m.: "It's a girl's dream," Mykenna, who plans hair flips and a shoulder toss during her walk. As the women get ready, the audience settles in.
Carson Kressley introduces the runway show—and says the women will be walking twice, once in a daytime look, once in an evening look.
"Boyfriends are temporary, cashmere is forever," Kressley tells the camera.
"Very excited to see the women walk the runway and show off their personalities," Pete says.
Mykenna stomps the runway with attitude and flair. "I feel like this is me," she says.
Chelsea has rather less personality. "It's like a good meal without salt and pepper," says Kressley of her form.
While Dickinson notes that some of the girls might wave and wink at Pete, "that's not what we're looking for, we're looking for something we've never seen before," she said.
Hannah Ann walks the runway in a wedding gown, earning some eye rolls as she throws her veil at Pete.
Victoria F. is backstage freaking out, but manages a walk with charm and panache. Many of the girls pick lingerie looks, though Hannah Ann goes for a miniskirt.
"Confidence has been the biggest struggle for me." Victoria F. says, after noting Hannah Ann's confidence. "I think the big discovery for me is that I'm a little confident," she says—and then walks the runway in a teddy and robe, after which she pulls Pete up out of the audience and gives him a kiss.
Victoria F. and Hannah Ann are named finalists, and challenged to a walk-off. Victoria F. says it's the first time she's felt noticed by Pete.
"I'm going to win this bitch," says Victoria F. "I swear to God."
The two women walk the runway in identical gowns, and Hannah Ann takes some extra time to grandstand at the end of the runway.
Hannah Ann wins the contest and is presented with all of the outfits Revolve makes.
Afterward, Victoria F. feels defeated, as if she can't compete with Hannah Ann, and confesses as much while crying to Kelsey about it.
9:49 p.m.: Pete gathers the women for dinner, and toasts their performance on the runway.
"I didn't care about any of it, I just wanted him to see me," Victoria F. says. She says she'll never be the girl who's the center of attention.
Pete takes her aside to comforts her alone. "It's very endearing to me that this is not easy for you," he tells her. He also tells her she's beautiful and kisses her.
"I thought today was so much fun," Mykenna says. She and Hannah Ann affirm that today feels like a "breath of fresh air" after yesterday.
Kelsey and Pete sit down with a new bottle of champagne and this time they sip it "classily," in Pete's words, out of champagne flutes.
Hannah Ann watches them, and calls Kelsey a bully.
"It upsets me that Peter doesn't know about that side of Kelsey," says Hannah Ann.
10:07 p.m.: Hannah Ann and Pete have a confab to iron things out and Hannah does tattle about Kelsey's attitude. They end up making out.
"I really like you," he declares mid-kisses.
"I'm feeling much better after speaking with Peter. I feel like we're in a good place," she says.
"I could be getting a rose tonight," Kelsey says, as she vows to focus on "mine and Peter's" relationship.
"We had some good conversations tonight, and I'm going to hold on to that."
He gives the date night rose to Victoria F., while Hannah Ann looks on in shock.
Pete asks Kelsey if he can speak to her in private. While the other women wonder what this is about, they wander into privacy.
Pete says that Hannah Ann told him that she feels like she's being "bullied" by Kelsey because of the bitch/princess comments.
"I don't like her, she knows that," said Kelsey. "Because she can turn it on. She acts a certain way to you and a different way to the house. I take my character very seriously."
"So when she tells me you're bullying her, that's not the case?" Pete asked.
"No, it's just not fair," said Kelsey, who says that Hannah's insistence that she's being "malicious" "sucks."
Pete says he doesn't know what to do or who to believe.
"I don't think she understands what the word 'bully' means," Kelsey, who has been bullied before, says.
Victoria F. comforts Kelsey who is upset Hannah Ann brought this up to Pete. Hannah Ann sits stiffly and stares straight ahead while Kelsey goes to cry in the ladies' room.
"The drama messes with every single one of us," says Mykenna.
While Pete walks moodily into the night and tries to figure out what's happening, we go to previews, in which Hannah is still a champagne stealer and there's a pillow fight. And there's a preview of the group trip to Santiago, Chile. However, much of the preview came from episode 1.
Over the credits, we watch Janice Dickinson pump the girls for in-house drama.
"You have to serve it!" she advises Victoria F. and Natasha, and adds they should "poison" the other contestants.
'The Bachelor' Spoilers, Live Updates: Who Went Home On 'The Bachelor' Tonight? | Culture