'Bachelor' Spoilers: Monday Eliminations and Alayah's Fate Revealed
The Bachelor will return Monday night with a giant cliffhanger to sort out.
Last Monday's episode left Bachelor fans wondering what would happen to Alayah Benavidez. Benavidez was sent home two weeks ago but returned during Monday night's episode. The show sometimes allows eliminated contestants an added conversation with the Bachelor for a chance at closure, but that wasn't the case this time.
Benavidez showed up to Bachelor Peter Weber's group date and asked to speak with him. There, she argued that Weber sent her home for the wrong reasons. Viewers know Benavidez was a hated contestant in the house, and when Weber asked the remaining women for their opinions on her, they had negative things to say.
Weber was confused by Benavidez's arrival but admitted he thought he made a mistake when he sent her home. In a shocking twist, Weber not only invited Benavidez back into the house but gave her the group date rose. This upset many of the remaining women as Benavidez wasn't an original contestant on the date.
The episode accelerated from there. Benavidez spread the secret of Victoria Fuller's dramatic one-on-one date, which brought Fuller face to face with her ex-boyfriend, country singer Chase Rice. She also sparked a problem with Victoria Paul, who Benavidez knew before the competition.
Paul, Benavidez and Weber were caught in a heated conversation surrounding drama between the women. The episode ended with both Weber and fans unsure of if either woman would stay on the show.
Most Bachelor episodes end in a rose ceremony, but the week ended with a "to be continued" message instead.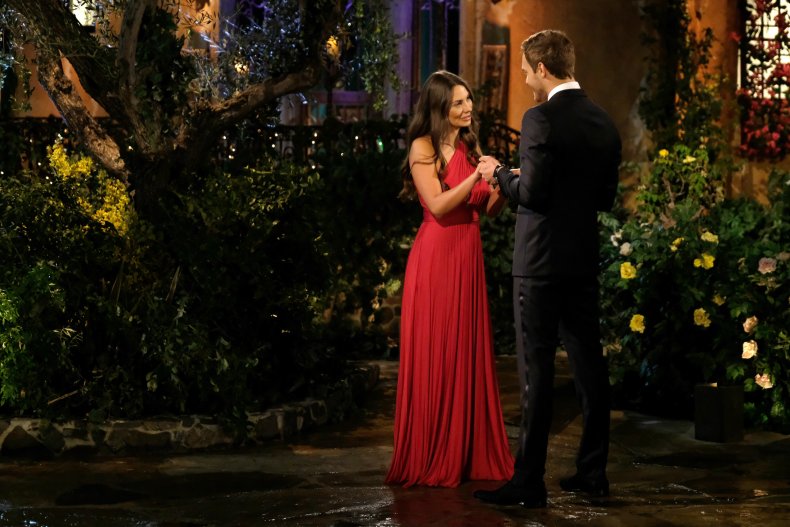 Monday night will show the conclusion to the dramatic conversation, as well as which women go home. Paul and Benavidez could be on the chopping block given Weber's confusion over the situation.
Spoilers are confident in Benavidez's fate. The woman will leave the show before the rose ceremony even starts, according to Reality Steve. The spoiler blogger revealed that this is by Benavidez's own doing, though he wrote Bachelor producers may edit the show to make it seem like Weber chose to send her home.
Benavidez won't be the only one leaving on Monday night. Kiarra Norman, Savannah Mullins, and Deandra Kanu will also be sent home, the spoilers say.
There are no spoilers available for how Weber's season ends. Weber teased that there's no way to spoil the show, which led many fans, and Reality Steve, to assume that means Weber hadn't picked a final woman by the end of the series.