Filming for Peter Weber's season of The Bachelor is well underway, and a frontrunner has already been established. Weber's season began filming two weeks ago, and news of the first impression rose winner has been revealed by spoiler site Reality Steve.
The first impression rose is a tradition on any Bachelor or Bachelorette season. It allows the leading man or woman to give out one, early rose to a person with whom they feel the strongest connection on the show's first night. While the first impression rose isn't a proposal, it typically symbolizes the start of a strong couple, that will last until later stages of the show. A handful of first impression roses have been given to future fiances on the show, which makes the receiver one to watch.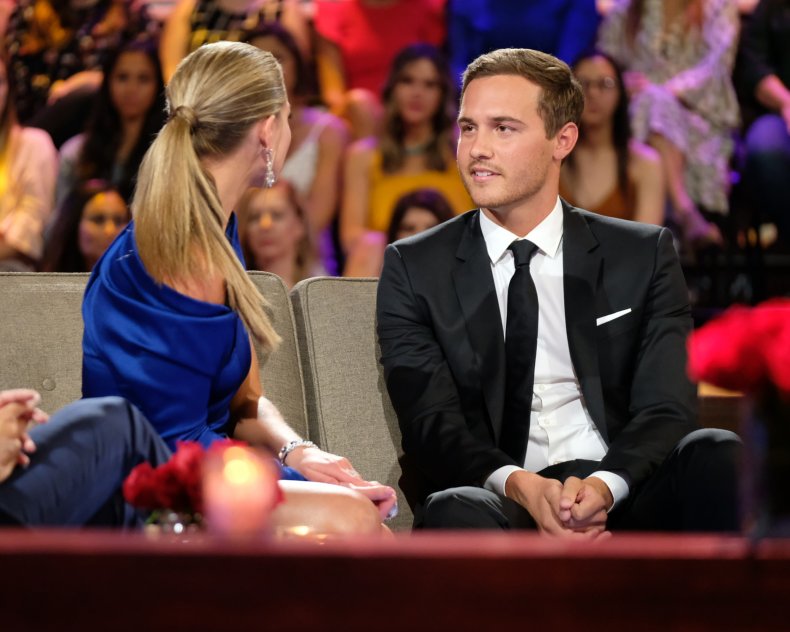 Spoiler revealed Weber gave his first impression rose to a woman named Hannah Sluss. Not much is known about Sluss, as her social media accounts are private. What is known is that Sluss is a friend of Hannah Godwin, who appeared on Bachelor In Paradise this summer.
Sluss is a model represented by The Campbell Agency, according to the talent website. She's 5'6, has brown hair and green eyes. She's also represented by Model Club. Sluss is a former Tennessee pageant queen, who competed for Miss Tennessee, according to Cosmopolitan.
Fans may see a similarity between Sluss and Hannah Brown, Weber's ex. Brown was the Bachelorette in 2019, and was also a beauty queen. There's also the obvious similarity that both are named Hannah.
While Sluss' social media accounts are not currently accessible, it's possible to find parts of Sluss' work history online. Given her role in the spotlight, fans of The Bachelor can get a little taste of who she is through a handful of videos.
First, Sluss is a featured actor in a Chris Lane music video. The song "I Don't Know About You" shows Sluss as Lane's love interest as the two meet at a bar.
There's also a video of Sluss during a pageant, as posted by Reality Steve on Twitter. The moment shows Sluss answering a question about hazing on college campuses. In the video, Sluss avoided the question by talking about bullying, rather than about fraternity members who cause the death of fellow brothers during hazing rituals.
How Sluss will be perceived on the show is unknown. Rumors claim she may feud with another pageant queen on the series, similarly to Caelynn Miller-Keyes and Brown's drama on Colton Underwood's season of The Bachelor.